The Freezer Fan Is Not Working on My Side by Side Samsung Refrigerator & Freezer
Modern refrigerator/freezers are great conveniences, but sometime their complicated features break down and create extra problems. The defrost mechanism is especially vulnerable to failure in various freezer appliances, including some side-by-side Samsung models. A broken fan in these models often due to a defrost failure, allowing ice to build up and clog the freezer fan blades. It could also be a timer failure, resulting in a freezer stuck in defrost mode. If the fan is not simply corroded or broken, then professional assistance may be necessary.
Frost Build-up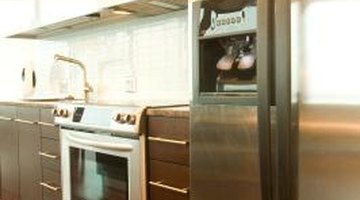 A broken fan in your Samsung freezer compartment may be due to the build-up of excess ice in the appliance's evaporator coils. This is a known issue with various Samsung side-by-side, French-door style and bottom-freezer models that are designed with an automatic defrosting mechanisms. The hot coils on the back of the freezer are meant to reduce frost build-up, but sometimes they fail and allow ice to accumulate until the fans are clogged and disabled. The known defect affects model numbers RF266AASH, RS263BBWP, RB1955SH, RS2533SW, RS267LASH, RS267TDRS and RS2630WW.
Stuck in Defrost
A broken fan could be because the defrost mode fails to switch back into the cooling mode. In this case, the freezer fan may stop working. Most frost-free freezers automatically enter a warming mode when prompted by the timer and sensor. The freezer fan will shut off and a heater will melt the frost. If the timer fails to prompt the freezer fan to initiate, it may get stuck in the "off" position. If you can locate the timer, which may be behind the compressor or controls, turn the dial to advance it out of defrost mode. A "click" sound indicates it is changing mode and the fan turns on or off in response.
Noisy Fan
You may find that your freezer fan has become noisy and clunky. Sometimes an old fan may make chirping, squealing or groaning noises. It can wear out over time and require replacing. If you can gain access to the device, try to spin it and see if it can turn. when it rusts or corrodes over time, you should replace the freezer fan.
Repair
Replacing a freezer fan is not very expensive and is relatively easy to accomplish without professional assistance. But if the problem is more complex than that, you may want to hire a repair service. Contact your appliance company to determine the best way to deal with a failed defroster and frost accumulation clogging the fan. If excess frost is the problem, try defrosting it manually by turning off and opening the freezer.
References
Writer Bio
Carly Fiske has been writing professionally since 2009. She writes for websites including greenanswers.com, openoffer.com and thirdage.com. Fiske holds a Bachelor of Arts in cultural anthropology from the University of Redlands.
Photo Credits
Jupiterimages/Photos.com/Getty Images
More Articles