Intertherm Air Conditioner Wiring
Intertherm is a brand of the Nordyne company. The Intertherm brand produces a limited number of products, including split systems. Split systems contain both air conditioning and heating elements in a single unit, monitoring the temperature of a home throughout the year. Wiring in Intertherm split systems relays electrical signals throughout the unit and to and from controls like a thermostat. Like all other air conditioning systems, Intertherm units follow a standardized wiring template.
HVAC Electrical Systems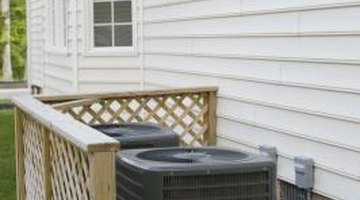 Manufacturers or installers of heating, ventilation and air conditioning (HVAC) systems, such as Intertherm, adhere to standardized wiring templates. These templates use color-coded coverings on wires to indicate the purpose of each wire, so that HVAC professionals and installation experts can work on any brand or type of HVAC system without researching the wiring practices or electrical system of that specific brand. Obtain an HVAC wiring guide or chart from a book or heating and cooling Internet resources to figure the purpose of each wire in your Intertherm air conditioner, based on its color.
Thermostat Wiring
Connecting an air conditioner unit to a thermostat consists of connecting air conditioner wires to the appropriate terminal on the thermostat. Thermostat terminals contain the following names, either written on the terminal itself or labeled in a drawing provided by thermostat manufacturer: Rh, Rc, Y1, Y2, G, W1, W2, O, B and C. The first letter in each terminal name denotes the color of the wire that connects to the terminal – red, yellow, green, white, orange, and brown. "C" stands for common. Common wires are usually brown, black, blue and sometimes white. The second letter or number denotes a specific wire. For instance, two red wires exist, one for heating and one for cooling. The Rc wire is the red cooling wire.
Intertherm Installation
Electrical work involved in installing an Intertherm air conditioner includes wiring the unit to the thermostat and connecting it to a central power supply. Some manufacturers do not put color-coded covers on wires, leaving this job for installation professionals. In such cases, avoid installing the unit yourself. If the wires come color-coded from the manufacturer, remember to turn off the power supply to your home before attempting to hook up the unit. This is necessary to avoiding injury or electrocution. Also keep in mind National Electrical Code (NEC) requirements for appliances. For instance, according to NEC, an appliance's electrical rating should not exceed 80 percent of that of the circuit you connect it to. A 15-amp circuit, therefore, can handle an appliance rated at 12 amps or less.
Intertherm Electrical Systems
The specifics of the electrical system within an Intertherm air conditioning unit ultimately depend upon the type of air conditioner in question. For instance, amp power ratings on Intertherm air conditioners in the S3QA line vary from 10.5 to 28.5, depending upon the model. The exact wiring within each of these units may also differ. Contact Intertherm directly to obtain an electrical schematic diagram of a particular air conditioner. A schematic diagram visually displays all the parts of a system – in this case, electrical – where they go and how they connect to all the other parts.
References
Writer Bio
Will Gish slipped into itinerancy and writing in 2005. His work can be found on various websites. He is the primary entertainment writer for "College Gentleman" magazine and contributes content to various other music and film websites. Gish has a Bachelor of Arts in art history from University of Massachusetts, Amherst.
Photo Credits
Jupiterimages/Comstock/Getty Images
More Articles