The Wiring for LG Air Conditioners
LG Electronics was first established in 1958 and has since gone on to offer a diverse lineup of televisions, cellular phones, household appliances, LED lighting and computer products. Among its offerings, the company offers casement, low profile, portable, through-the-wall and window air conditioners. Though the subtleties of wiring vary at least slightly for each air conditioner, wiring basics remain the same across models.
Basics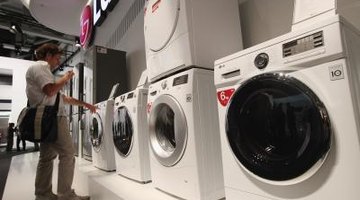 In LG air conditioners, as in air conditioners from other manufacturers, wiring circuits distribute electricity throughout each unit. Common wires in LG air conditioners include grounding lines and connecting cables, which connect the terminals of indoor and outdoor units, and wires that provide power to the air conditioner motor and capacitor. LG uses heat-proof electrical wiring, which withstands temperatures up to 167 degrees Fahrenheit. Wires are connected by the color codes provided in the wiring diagrams included with LG air conditioners.
Improper Wiring
According to the company's service manuals, LG air conditioners that fail to start may have faulty wiring. In particular, fan motors that fail to start while the rest of the unit remains operational indicate improper wiring. Defects in compressor operation – including the compressor cycling on overload – or drops in voltage power may result from loose or improper wiring connections between the air conditioner's terminals.
Availability
Authorized LG parts distributors offer replacement wiring for the company's air conditioners. These companies offer wiring circuit kits for the motor assemblies, capacitors, compressors, overload protectors, thermistors, plasma filter assemblies and both DC and AC PCB assemblies of LG air conditioners. At its official website, LG offers manuals and wiring diagrams. Also at the site, air conditioner owners can also fill out an online form to request repair service.
Considerations
In installation manuals for its air conditioners, LG warns that installation work must be performed in accordance with national wiring standards by authorized personnel only. Only experienced electricians should attempt to wire LG air conditioners, as error can lead to electrical shock. Improper connections, inadequate grounding and loose wiring may cause dangerous, high-voltage shocks, leading to injury or even death.
References
Resources
Writer Bio
Dan Ketchum has been a professional writer since 2003, with work appearing online and offline in Word Riot, Bazooka Magazine, Anemone Sidecar, Trails and more. Dan's diverse professional background spans from costume design and screenwriting to mixology, manual labor and video game industry publicity.
Photo Credits
Sean Gallup/Getty Images News/Getty Images
More Articles