Bracing the Sides of Posts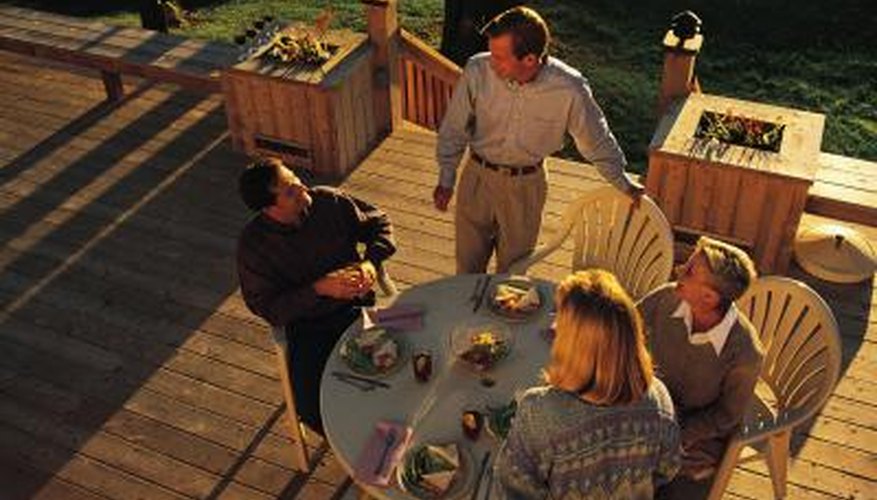 Deck bracing prevents uplift and shifting that can cause the deck to fail. Even if your deck doesn't sit too high above the ground, bracing can give it added strength in resisting the force of gravity, which can cause wear and tear on a deck.
Bracing in a "Y" pattern on the sides of the posts offers excellent support without compromising the appearance of your deck. Cut the ends of a four-by-four or six-by-six at a 45-degree angle, so the ends fit flush against the post and the horizontal beam. Secure the post with joint nails, screws or lag bolts. The method you use to secure the bracing depends on the position of the post relative to the beam. You'll do this on both sides of the post, forming a "Y."
Bracing the Face of Posts
Use two-by-four or two-by-six to brace the face of the post to the beam. This also is a "Y" bracing technique. Again, you need two pieces of lumber to form the "Y" pattern, cutting the ends at 45-degree angles. Secure the end of each brace to the face of the beam -- being sure to align the 45-degree end of the lumber with the top edge of the beam -- and the face of the post. The ends of the braces need to sit flush on the face of the post, forming the "Y."
X Bracing
This is a fairly simple process that may present challenges to perform. "X" bracing is best used on decks sitting on slopes, as well as decks that sit high off the ground. Use caution when working high up. Use two-by-fours or two-by-sixes, securing each board at the top of one post and across to the bottom of the adjacent post. A second board is attached to form an "X." Repeat the pattern around the deck. "X" bracing isn't the most attractive choice for bracing, since it tends to make the deck look like a railroad trestle. However, when it comes to decks that sit high off the ground, safety and stability should be of more importance than appearance.
Corner Bracing
Adding a corner brace is like adding a "Y" brace, except you don't do the second arm of the "Y." Corner bracing alone can increase the stability of your deck.