The Roll Size of Vinyl Flooring
Vinyl flooring comes in a variety of formats, ranging from tiles to precut sheets to rolls that are laid out like carpet when they are installed. The roll format makes for one of the easiest do-it-yourself installations since the material can be rolled out as it is installed, and sheets are easily joined together for larger installations. Which size roll you choose depends on the type of installation you are working with and the size of the room.
The 4-Footer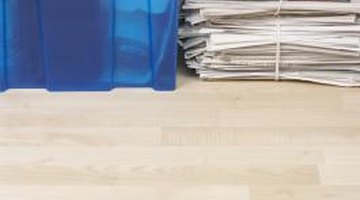 The minimum width of a hallway is 36 inches, so use the 4-foot-wide rolls available in home improvement stores down the length of a hallway. They are also useful for walk-in bathrooms and powder-baths, such as what are traditionally located off a hallway, and are just wide enough to accommodate a person walking in and using the toilet and sink.
The 6-Footer
Six-foot-wide rolls of vinyl work for wider hallways, such as the 60-inch-wide hallways found in larger homes, which accommodate two people passing at a single time. Many guest bathrooms also use the 6-foot-wide roll, as it easily fits into a room that is the width of the bathtub and has a cabinet base and toilet set into the floor. (The traditional bathroom has a width is 5 feet and a length of 8 feet.)
The 12-Footer
One of the largest rolls of vinyl available -- at 12 feet wide -- is used in open areas such as bedroom floors, master bathrooms, kitchens, laundry rooms or anywhere there is more than 6 feet of space to be covered. If you are working with a room that is wider than 12 feet, match up an additional roll with the first to give the appearance of a single roll used in the room. The resulting seam is best made in the least visible area of a room, such as where you know the sofa sits, or under where the cabinets will be installed.
Lengths
The average length of a roll varies widely based upon the manufacturer. As a general rule, manufactured rolls are sold around 50 feet in length, but the average home improvement store has commercial rolls available that are longer. These are cut down to length based upon the needs of the homeowner. For example, if you have a kitchen floor that is 20 feet long, have the home improvement store cut you a length at 21 feet, so you have a little extra to spare when installing, but short enough so you don't have 30 feet of leftover material.
Resources
Writer Bio
Tim Anderson has been freelance writing since 2007. His has been published online through GTV Magazine, Home Anatomy, TravBuddy, MMO Hub, Killer Guides and the Delegate2 group. He spent more than 15 years as a third-generation tile and stone contractor before transitioning into freelance writing.
Photo Credits
Jupiterimages/Polka Dot/Getty Images
More Articles