Find the Best Spot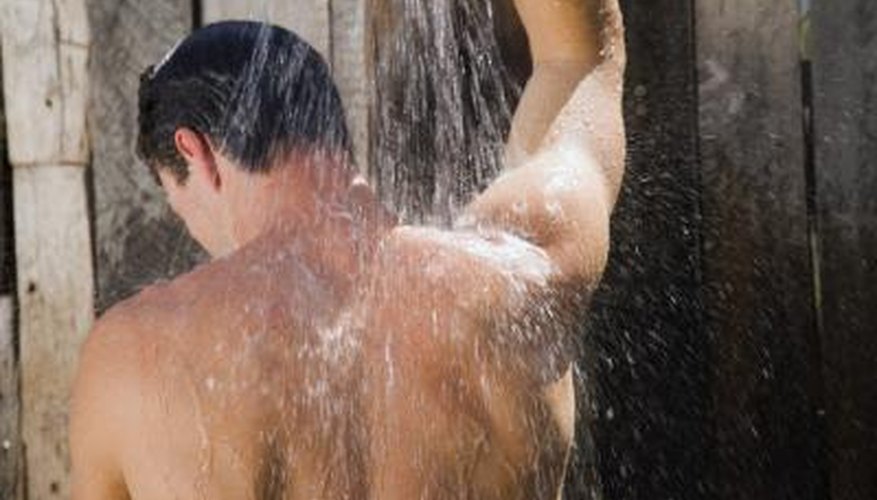 Or perhaps you have a beach house or mountain home and you'd like a place just outside your house for a quick shower. You don't have to compromise privacy to enjoy the experience and convenience of showering in the outdoors, and you can use a variety of materials. The design can be as elaborate or as simple as you want.
Just about any spot can do for a rustic shower. Look for areas that drain well or that you can easily grade to drain well. You don't want to go to the trouble of installing a drain if you don't have to. If you place it near your house, shed or barn, ensure that water flows away from the structure. If there's a wall you can use as one of the walls of your shower, that's even better. Depending on how much privacy the area already has, you may find yourself just tapping into your indoor plumbing and putting up a semicircle curtain rod.
Simple Construction
The most basic rustic shower consists of four walls and a door, and a garden hose or water bucket suspended overhead. It doesn't get much simpler than that. With this design, set your corner posts in concrete as you would a deck or fence. While you can simply set them in packed-down soil, you'll always face the issue of wood rot. Concrete helps avoid that. Consider sheathing the base of the corner posts in waterproof material. Old barn wood is perfect for the walls. However, if that's not available, regular cedar fencing will cure nicely and is resistant to moisture. Use pea gravel for the floor. It will help water drain away and can easily be refreshed from time to time. Some people go so far as to use solar heating kits for warm water, or they use old water heater cores painted black as water reservoirs.
Plumbing Options
If you're just looking for a quick rinse off after a hike in the woods or a day at the beach, four walls and a garden hose suspended from above may work just fine. However, if you want your rustic shower to fit in with your overall décor, consider taking the extra step of tapping into your home's indoor plumbing. You'll need to work with a plumber to determine the best spot. Once you do, you may find your imagination running away with you in terms of the water features you can add. In addition to the shower head, you can add fountains, small waterfalls and other fun and interesting features.
Elaborate Construction
If you've gone so far as to tap into your home's plumbing, you may want to get an estimate on creating a small outdoor oasis with your rustic shower. Pebbled walls, natural stone, and colorful tile mosaics can create a stunning rustic shower.