Wire Baskets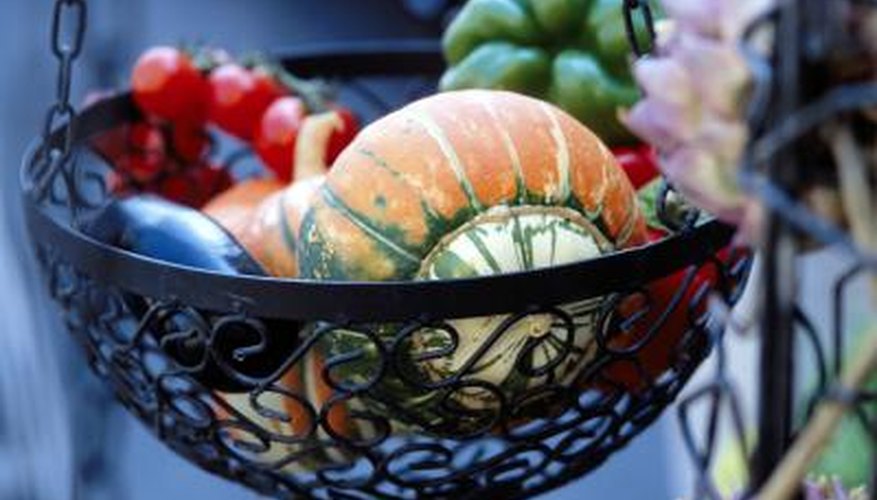 Baskets easily fall into this category. Once a novel and unique idea for holding everything from magazines to umbrellas, the basket's heyday has come and gone -- its value now mostly only recognized among shabby chic decorators and collectors of vintage memorabilia. But you can bring many styles of baskets back into vogue by altering them with paint and fabric and finding new and inventive ways to repurpose them.
Estate sales and thrift shops are filled with those old wire baskets that the milkman used to tote bottles back and forth from his truck to your grandfather's doorstep. They are actually a hot commodity for decorators fond of shabby chic or French decor who might fill them with old turquoise canning jars that display fresh flowers. But you can reinvent old wire baskets in ways that are more contemporary by lining them with brown butcher paper, newsprint or patterned oilcloth and using them to hold extra plates or kitchen towels. You might even line an old wire basket with cheesecloth or spongy moss and hang it on your front porch or patio as a planter for a pretty trailing vine.
Wicker Baskets
You can thread thin wire through an upholstery needle and weave it in and out the cracks and crevices of the edge of an old wicker basket. String glass, wood and porcelain beads along your wire as you sew to make an eclectic basket trim. Wicker baskets also lend themselves well to simple paint. Display a collection of them, each painted halfway up in coordinating colors. Or, mimic an African motif on your baskets by taping designs in painter's tape and filling in the surrounding space using bold earthy colors.
Picnic Baskets
Bring an old, flip-top picnic basket back to life by coating the top in chalkboard paint and writing a "get well" message to a friend. Deliver the basket filled with fruit and goodies. You might also try applying a thin watery coat of whitewash to an old picnic basket, gluing a vintage metal embellishment such as an eagle, flower or scroll to the front and adding a set of four casters to the bottom. You can give this type of basket a chic appeal by repurposing it as a rolling end table or nightstand.
Fruit Baskets
Glue a trim of thick rope around vintage fruit baskets to beef up their appearance. You might also label them by gluing on small squares of wood you have treated with chalkboard paint. Write the purpose of each fruit basket on the label in colors of chalk for potatoes, apples or bananas, and store them on your kitchen counter. Fabric liners are another effective method of changing up the look of a fruit basket. Make one oversized so it acts as a liner and folds down over the front to cover most of the basket.