Finishes and Styles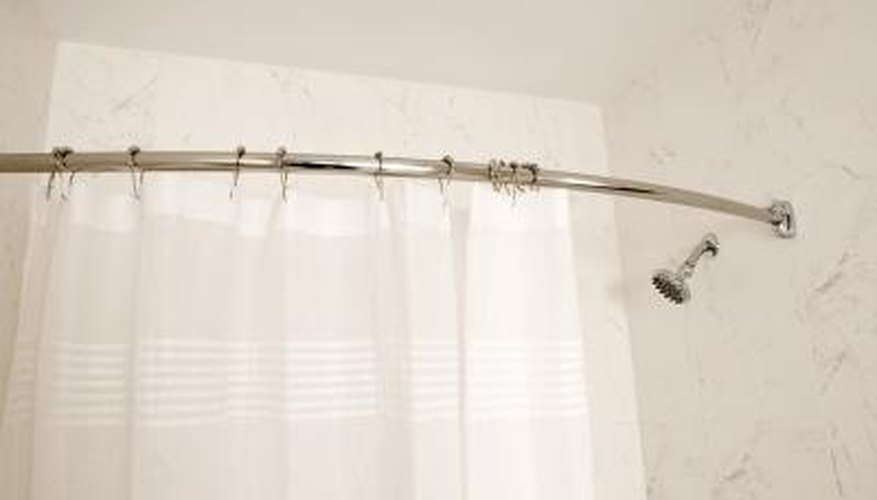 In addition to the builder's "no frills "mainstays, many decorative and space-expanding rods are found in a multitude of stores from home improvement big box stores to discount stores and bath boutiques.
Match shower rods to bath fixtures or decor with a wide array of models for every style or pocketbook. The choices make it an easy chore. Rods of diverse shapes, colors and designs even have different ways to connect to the wall. Whatever kind of bathtub or shower you have, your options are no longer limited to a narrow selection.
Permanent Vs. Removable
Choose the right rod when your shower or tub isn't fitted with glass shower doors. Determine if the rod will be permanently installed or if you want it to be removable. If the answer is permanent, the screws used to attach it will result in holes in the wall. Particularly when the adjacent walls are tiled, tension shower curtain rods are gaining popularity because they are fairly easy to install and remove without damaging the wall. An internal spring exerts the force that keeps it in place.
Shape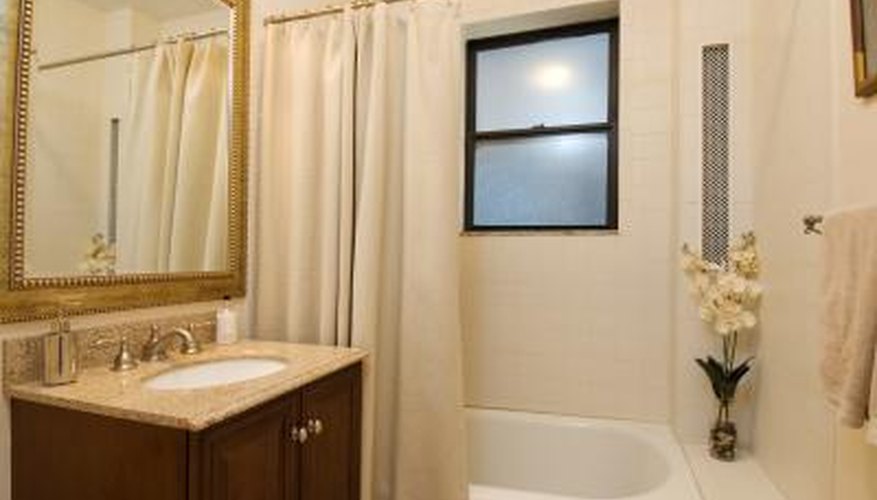 Pick a rod shape that addresses your needs. The most common are still straight shower rods to fit a five-foot space, and these are found in metal, wood and plastic. If you have unusual needs, metal rods will accommodate the majority of them. For example, to create more room in the shower, the center portion of crescent-shaped or curved rods bow out, which results in about an extra foot of elbow room, depending upon the particular rod. Since the bow adds length to the rod, ensure your shower curtain is long enough. If normal rods won't work, such as if your shower is over a tub in the middle of the room, a round rod might be just the ticket. Available are ovals, rectangular and L-shaped rods, neo angle rods with varying angles, bendable rods and custom rods.
Double Shower Curtain Rods
Hanging two sets of shower curtains is relatively easy with a double rod. The inner plastic liner is hung on the rod facing the tub or shower to shield the room from water, and a decorative curtain of cotton, brocade or other material for the curtain that faces the bathroom is hung on the front rod. Often this outer curtain is tied back with a "cuff" or rope and tassel attached to a hook on the wall that holds it in a graceful swag.
Curtain Rod Finish
Metal rods come in finishes like chrome, brass, antique brass, verdigris and bronze. Plastic covers are also available for use over metal rods. Their main purpose is to introduce colors designed to coordinate with other elements in the bathroom. They can also cover rust or wear spots on older rods. You will find wood rods in a variety of stains, like maple, cherry and walnut, as well as painted finishes and colors.