How to Hang Drapes When the Window Meets the Wall
Hanging drapes on windows that meets the wall creates design challenges. Here are the steps you can take to hang your drapes when the window meets the wall in a way that is stylish and attractive.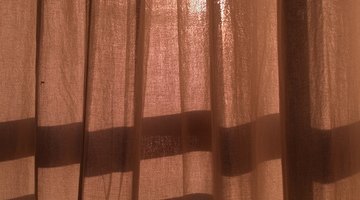 Choose a café curtain rod that can be mounted on support hardware that does not require the rod to be attached on the ends but near the ends. This will allow your drapes to extend all the way to the end of the rod where it meets the wall.

Choose drapes that go well with a café rod. Your options are tab top curtains, curtains that you can attach to drapery rings and even old-fashioned drapes that use hooks and hides the rod completely.

If you choose a rod where the drapes will show through, be sure to choose a pretty metal or wood rod that has finials on the end. Remove the finals from the end of the rod where the curtain rod meets the wall. This gives the drapes the effect that they are actually coming out of the wall.

If you have two windows on the same wall, with each window touching the opposite wall, remove the two outside finials and keep the two inside finials, This will balance the wall as well.

Another option that you have when the window meets the wall or when two windows meet the wall is to put up a wall-to-wall curtain. To do this, you would install café rods above the window as close to the ceiling as possible. You will need to remove any finial ends from the café rods so that the curtains can touch the walls.
Writer Bio
Andrea Hermitt is an artist and writer who loves to research and write about new things. She's been a content writer since 2000, contributing to Families.com, the blog Notes From A Homeschooling Mom and other online publications. Hermitt has a Bachelor of Arts in fine art and English from the State University of New York at Albany.
Photo Credits
Creative Commons Images by flickr members Swami Stream, and el gran dee
More Articles