Uses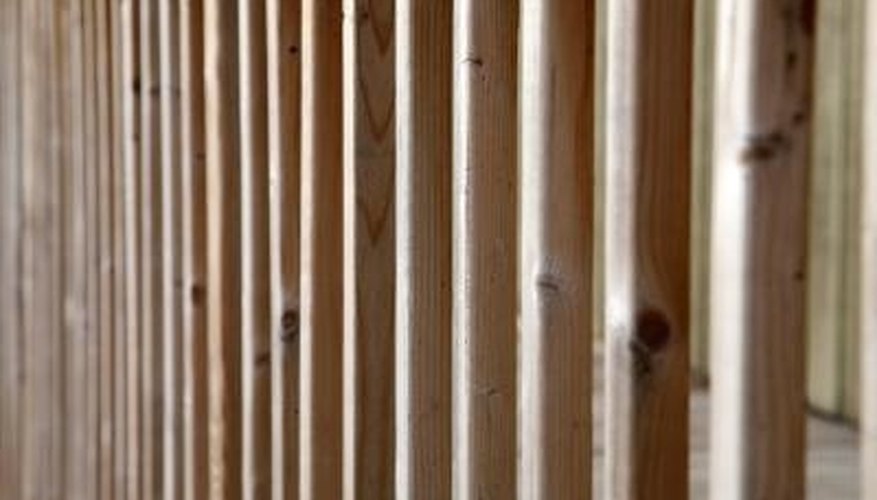 Although some call them "2 by 4s," they are really 1. 5 inches thick and 3. 5 inches wide. This is true for all standard studs, whether they are metal or wood. Because the prices of wood and steel fluctuate constantly, you'll never know whether you're going to spend more for wood studs or for steel studs until you get to the lumberyard. Either type of stud will give you a structurally sound wall, but there are differences in installation techniques and in the tools required to install the different studs.
Steel stud construction has been available to home builders for decades, but commercial contractors use steel studs more often than single-family residential builders do. In commercial building applications, steel studs play a role in constructing fire-rated walls between stores and between upper and lower floors.
Tools
Basic carpenter tools are all you need to construct a wall with wood studs. A framer can get by with just a circular saw and a framing nailer, in addition to measuring and leveling tools, when building a wood stud wall.
Installing steel studs, however, requires a special crimper to pinch the top and bottom studs together with the floor and ceiling plates. While the builder can still use a circular saw, he'll need a metal blade. A chop saw with a metal blade makes cutting more efficient. Nails won't hold steel studs, so a drill and self-tapping screws are required.
Application
Basic wall construction is the same, but with wood studs, additional dimensional lumber forms the floor and ceiling plates. In steel construction, special U-shaped floor and ceiling tracks support the vertical steel studs, which are lightweight and C-shaped.
The builder drills holes through wood studs to run wiring and water supply lines, but steel studs come with holes already in place. If the builder chooses to use specific holes, he will first fit the holes with plastic grommets to protect the wires.
A typical problem during steel stud construction occurs when the builder does not install the vertical studs in order, from the back of the wall to the front. When working with wood, you can hammer an additional stud in place later, but you can't do that with steel studs. Because the floor and ceiling tracks are not flat, their U-shaped sides present a barrier to positioning a stud in from the side. This can result in trying to twist studs into tight spots. When installing a steel stud wall, always install the studs at the back of the wall first by positioning the stud at an angle in the floor track and then pushing it upward to fit into the ceiling track.
Considerations
Steel transmits thermal energy better than wood does. This makes steel studs less energy-efficient than wood studs when used in exterior walls. According to the mechanical engineering firm of Kohler and Lewis, the use of steel studs short-circuits the insulating value in an exterior wall. You can improve the insulating value of a steel-stud wall by installing a 1-inch-thick layer of rigid foam insulation on the exterior stud wall.
In areas where moisture is a problem, steel studs, when combined with moisture-resistant drywall panels, will resist mold and moisture damage better than wood studs and regular drywall panels.