Ideas for a Boy's Police Bedroom
While there are many decorating themes that may be a good fit for your little boy's bedroom, celebrating the efforts of real life heroes like police officers and firemen can give the space a special feel. A police-themed bedroom is ideal for any boy who dreams of chasing bad guys when he grows up. It is a versatile theme that allows for a great deal of creativity, but there are certain elements that you definitely do not want to overlook if you want to wow your son.
Color Scheme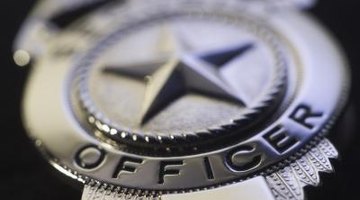 When developing a color palette for a police-themed bedroom, consider the shades traditionally used in police uniforms and vehicles. Begin with a deep blue, such as royal or navy, and pair it with white to balance out the darker shade. Because police cars often feature a black and white design, use black as an accent color throughout the room. Pops of yellow can be an attractive addition as well to represent the gold of a police officer's badge. Choose bedding in blue and white shades, and add black or yellow throw pillows. A simple blue and black patterned area rug is an ideal floor covering, and you can opt for blue or white curtains on the windows.
Walls
If you prefer an understated look, use white paint to cover the walls. You can incorporate blue in the wall design by creating an accent wall behind the bed or pairing it with the white to create a two-tone effect on the wall by painting the lower portion of the wall blue and the upper portion white. Install chair rail to divide the two sections, and choose one of your accent colors, such as black or yellow, for its paint. You can also create an accent wall by painting black vertical stripes on a white background to mimic the look of a jail cell. If you want to add a border to the room, hang yellow crime scene tape at the top of the walls for a fun, authentic look.
Mural
For a truly outstanding wall covering, create a mural of a police car on one of the walls. You may use a premade mural, or hire a mural painter to handle the job. However, if you like craft projects, you may want to try painting it yourself. Find a basic image of a police car online, and make a black and white copy that you can use to turn into a transparency. With an overhead projector, you can project the image onto the wall to trace it and adjust the size so it fits the wall. If you do not own a projector, they are available for rental at many office supply stores. Once you have traced the image with a pencil, use acrylic paint to color in the car. You can choose other images for your mural as well, such as a police officer's hat, badge or a police station.
Accessories
To round out the look of a police-themed room, find authentic-looking police hats and badges and display them on a shelf. You can display toy police cars in a similar manner. Hang metal street signs on the walls to represent the efforts of traffic cops. Visit the hardware or home improvement store to find novelty draw pulls that are in the shape of police cars or hats. You may also find a variety of premade police-themed decorative items, such as police hat bookends and police car lamps, to complement the rest of the décor.
References
Writer Bio
Based in New York City, Jennifer Blair has been covering all things home and garden since 2001. Her writing has appeared on BobVila.com, World Lifestyle, and House Logic. Blair holds a Bachelor of Arts in Writing Seminars from the Johns Hopkins University in Baltimore, Maryland.
Photo Credits
Stockbyte/Stockbyte/Getty Images
More Articles