Wet Paint Removal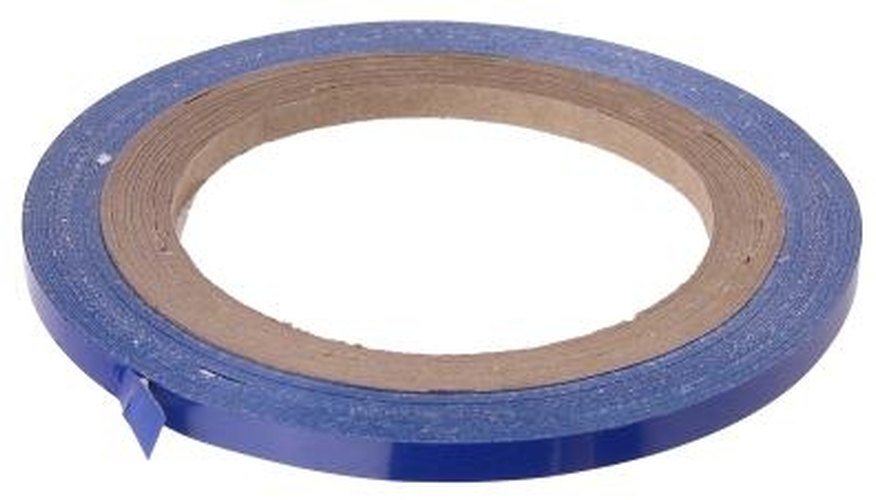 Using the painter's tape correctly is critical to avoid seeping paint and clean, straight edges. Depending on your project, you may want to remove the paint when the paint is wet or dry. However, never leave the blue painter's tape in place for more than a few days. Left to dry, the paint may have to be scraped or sanded off.
Commonly on most paint projects, the tape may be removed immediately. By removing the paint quickly, you may wipe away any wet paint that has seeped under the edge of the blue tape. Wrap your finger with a damp cloth or paper towel and wipe away. You also do not risk pulling up any paint that is attached to the tape and tearing up the wall when the paint is wet, which can happen when tape is removed with dry paint.
Dry Paint
Sometimes you will remove blue painter's tape after the paint has dried. Perhaps the paint dried very fast or the project was very large. With some faux finish projects, the tape must be left in place until all layers of paint or plaster are dry to the touch. When removing this tape, hold a sharp straightedge against the paint wall, which firmly keeps the paint in place and prevents it from peeling up. With the other hand, remove the blue tape.
Cutting Tape
In some instances, the paint is dried and is overlapping the top edge of the painter's tape. When pulling this blue tape, you should first gently cut the tape by slicing the top edge with a razor blade. Make a gentle cut into the top layer to prevent the paint from peeling upwards and ruining your paint finish.
Painter's Tape Tips
Always burnish the tape firmly with a plastic putty knife, or even your finger, to get a solid seal with your tape. Only use tape strictly marked for use with paint. Some masking tapes are colored blue but should not be used with paint projects. Though traditionally painter's tape was blue, new versions exist in different colors from bright green to purple.