The Best Fabrics to Sew Curtains
The type of fabric you use to make a set of curtains depends on what purpose the curtains will serve. Lightweight sheer fabrics let light seep in through the window while maintaining your privacy. Heavier weight fabric can completely block out light and help keep your house warm in the winter. Curtain fabric should have drape, meaning it should have a bit of flow when it hangs.
Sheer Fabrics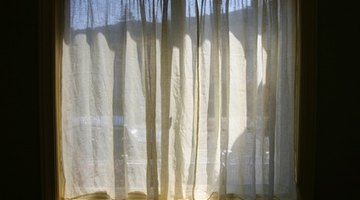 If you want sheer curtains, choose a fabric that is either a lightly woven nylon or polyester. The idea of using a sheer silk may seem luxurious, but the fabric quickly fades and deteriorates in sunlight. Synthetic sheers last much longer. You can also use a lightweight cotton and polyester blend, which has a nice drape and lets filtered light in.
Woven Cotton
If you want to sew a valance or a set of cafe curtains, a mid-weight woven cotton, such as a quilting weight cotton, will serve you well. When choosing the fabric, unroll it from the bolt a bit and hold it up diagonally. The fabric should fall in gentle folds. If it does not, put the bolt back, and look for a different fabric.
Heavy Fabric
Velvet, linen and heavier cotton/polyester blends make excellent long curtain panels or drapes. Simply because the fabric has a heavier weight does not mean it should have more body than lightweight curtain fabrics. Make sure the heavier fabric drapes well before choosing it to use as curtains.
Flannel
Flannel does not make a good set of curtains on its own but is perfect to use if you want thermal curtains. Sew the flannel in between the exterior curtain fabric and the lining fabric to create a layer of insulation to keep your home warm in the winter.
References
"Window Treatments and Slipcovers for Dummies"; Mark Montano and Carly Sommerstein; 2005
Writer Bio
Based in Pennsylvania, Emily Weller has been writing professionally since 2007, when she began writing theater reviews Off-Off Broadway productions. Since then, she has written for TheNest, ModernMom and Rhode Island Home and Design magazine, among others. Weller attended CUNY/Brooklyn college and Temple University.
Photo Credits
More Articles