Shower Door Recycling Ideas
Whether you consider yourself an environmental activist, hate to see landfills overflowing with unused items or just enjoy finding ways to recycle old household items, a peek into your bathroom may give you inspiration. The next time you have to replace your shower, don't toss out the sliding glass door---a variety of useful household creations may be made from the pane. With just a little bit of planning, a few precautionary safety measures and a couple of supplies, your shower door may find its way into more than just the morning routine.
Display Pane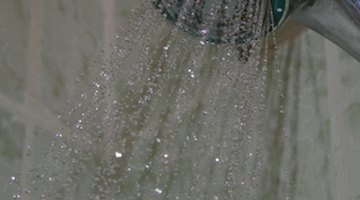 If you've got a scuffed, scratched up long table, turn it into a combination scrapbook and display case with the aid of your shower door. After gathering old photos, concert tickets, fliers, your children's doodles, foreign currency and other flat memorabilia, scatter the items around the table top, adhering them with glue or sticky tack. While holding the shower door upright, you can apply a line of super glue across the top edge, then press felt (a color that matches the room's decor) around each edge completely. This serves double duty protecting against injury and ensure the pane doesn't scrape your table. The shower door may be simply placed on top of the table, giving a view of the scrapbooked items underneath it or anchored down by gluing dots onto the felt and then pressing the door onto the table until the glue has set.
Game Table
The main play in backgammon may be with small round "pips" (playing pieces), but you can't actually play backgammon without a board. Instead of purchasing one, create your own out of an old glass shower door. With just a few supplies from around the house (masking tape, one or two of your favorite colors of paint), you can create a backgammon board ready for a family challenge. The backgammon board consists of 24 "home" triangles the playing pieces reside on. After completely sanding the edges of the door, consider adding strips of felt or rubber around all sides as a protective layer. To paint the triangles, you'd cut 24 triangles in the masking tape, apply them to the board and paint directly over them. Once the paint dries, you can remove the tape and the triangles are fully formed. (Another option is to paint the entire shower door first, let dry, apply the tape, paint again and you'll have a colored background and colored triangles). The shower door makes for a portable and secure way to play the game.
Chore Board
Instead of going through pages and pages of note paper to write your family's chore assignments, create an eco-friendly chore board out of your old shower door. Before getting started with the paint, remove any rough edges from the door with sandpaper or by applying and letting modeling clay set around all four corners. A specialty kind of paint called "chalkboard paint" turns your door from clear glass to a chalkboard similar to the kind seen in days of elementary school. Paint is available from hardware stores or online; once a coat or two dries, you can keep an ongoing list of grocery items, daily or weekly cleaning tasks or reading lists, or even sketch out your next recipe and prop it up near where you'll be cooking.
References
Writer Bio
Fionia LeChat is a technical writer whose major skill sets include the MS Office Suite (Word, PowerPoint, Excel, Publisher), Photoshop, Paint, desktop publishing, design and graphics. LeChat has a Master of Science in technical writing, a Master of Arts in public relations and communications and a Bachelor of Arts in writing/English.
Photo Credits
More Articles