How to Decorate Fellowship Hall Room Walls
The fellowship hall serves as a central meeting place where a wide variety of social events take place within your church. Informal activities such as Sunday school or day care are often conducted in the fellowship hall. Community dinners are served and more formal affairs including wedding receptions are celebrated in this room. The importance of the hall should be considered when you are planning the wall decorations. Colors should complement all occasions and serve as an attractive background for the events. The walls need to be functional as well as attractive for displaying notices to its membership. Plan the decor carefully and the results will provide you with a room that is a beautiful functional extension of your church.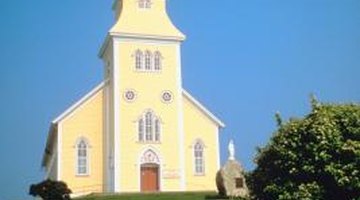 Step 1
Paint the walls a soft shade of a contemporary neutral color. Khaki, warm ochre, sage or a gray-blue provide several good choices. Depending on the event taking place in the hall, walls may be used as a backdrop for photographs, making a neutral color desirable.
Step 2
Paint a broad horizontal stripe at least 12 inches in height around the center of the entire room. Position the stripe about one-third of the height of the wall. Use a lighter shade of the wall color to contrast with the wall color. With a darker color, use an artist's brush and a craft paint to illustrate biblical quotations inside the stripe.
Step 3
Display a decorative bulletin board on a wall where announcements, articles and memos can be posted. Staple a seasonal garland to the edges to embellish the board.
Step 4
Hang a chalkboard on the wall where menus or an important event can be noted. Frame the board in a decorative frame painted to coordinate with your wall color.
Step 5
Mat and frame several pieces of art created by kids in Sunday school. Display them as a grouping to accent one wall.
Tips
Use a level to ensure your stripe is even. Painter's tape will provide you with a clean edge.
Choose a tall graceful font that is decorative and easy to read from a distance. Commercial rub-on letters can be substituted for hand-painted script.
Substitute colorful children's hand prints for the script inside the striped border.
Inexpensive commercial mats and frames are available at local craft stores. Art can also be laminated and mounted directly to the wall with tape as an alternative to framing.
Cover the bulletin board with seasonal fabric for a decorative accent.
Place tall faux potted trees in dark corners. Illuminate them with strings of miniature white lights.
Writer Bio
In 1982, Mary Love's first book, "Shakespeare Garden," was published. She also authored professional brochures. Love was the subject of a PBS special profiling Northwestern Pennsylvania artists, highlighting her botanicals and birds. She holds a Bachelor of Science degree in art education from Edinboro University in Edinboro, Pennsylvania.
Photo Credits
Jupiterimages/Photos.com/Getty Images
More Articles