What Kind of Pictures Should I Put in My Living Room?
Hanging pictures in a living room is comparable to spreading frosting on a cake. The walls and cake are both blank canvases that can be decorated in a myriad of ways. The images and color in pictures evoke an array of emotions and should be carefully selected. Available wall space and room decor are other considerations. Set a budget of how much you want to spend. Original oil paintings can be pricey as opposed to substantially less expensive art prints.
Subject Matter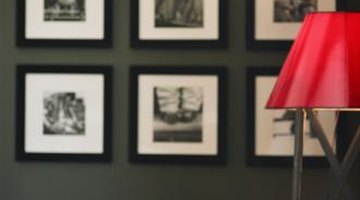 Every picture sends a message. You want the subject matter displayed in your living room pictures to trigger happy, comforting thoughts or memories. Landscapes of lush mountain meadows, serene beach sunsets, fields of blooming flowers or winding trails through sunlit forests are favorite themes. Abstract art lends a contemporary flair to the room. Pretty florals, family portraits tranquil sailboats and a variety of other choices are available options.
Size
The living room wall space available will determine the size and quantity of pictures to hang. A focal point in the room can be created on a large blank wall by hanging a single, substantial piece of framed and matted or canvas wall art. A grouping of four or more smaller framed pictures hung on a wall is a favorite. Similar themes connect the pictures, such as the four seasons, a variety of foliage or interesting architectural structures.
Decor Style
Blend living room pictures with your current decor style and color palette. Brightly colored abstract pictures look stunning against a white wall in a contemporary decor. Black and white framed photographs are a combination of traditional and modern style and can be inexpensively created. Photographing historic buildings, city parks, busy streets or flowering foliage in your locale are low-cost ways to quickly embellish your living room walls. Florals and landscapes are well suited for the traditional home.
Medium
An assortment of mediums for your living room pictures are available to suit every style, budget and personal preference. Purchasing an expensive original oil painting is an exquisite piece of art that can become a family heirloom. Watercolor, pen and ink and acrylic mediums can be one-of-a-kind originals or sold as less expensive prints. Photography in vivid color, sepia tones or black and white can be framed into original creative living room pictures. Even simple pencil drawings can be fashioned into interesting conversational wall art.
References
Writer Bio
Mary Cockrill's education and certifications in interior design and home staging have allowed her to author numerous home-related articles. Cockrill has been a top design consultant for a renowned home store and is the owner of Starwood Home & Gifts, LLC, an interior design, decorating and home staging business. She holds a Bachelor of Science in secondary education with a comprehensive major in office administration.
Photo Credits
Jupiterimages/Photos.com/Getty Images
More Articles