Plywood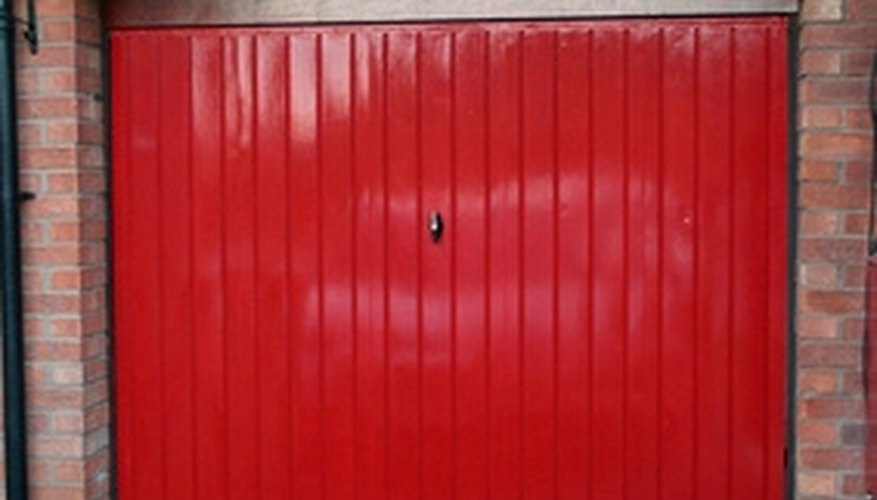 Wood allows you to customize the look, stain, color and style of the door in ways that aluminum or other material don't. In addition, wood is an excellent insulator on its own, meaning a wooden door can be more solid and efficient. When it comes to wooden garage doors, there are a few types of wood that are preferable for this use.
Plywood is popular and an ideal garage door material because it's extremely cost-effective, no matter the size of the door. Plywood is versatile enough to create different sizes and styles of doors. Although lightweight, plywood is strong enough to be used as an exterior skin over a frame, which creates a durable door that costs less than a solid door made of other woods. Since the plywood is affixed in panels to an interior skeleton, those panels can be shaped to various sizes and thicknesses and installed in such a way that the door has a recessed or raised look.
Douglas-Fir
Douglas-fir is a popular type of softwood typically used as the skeletal material for garage doors, but it can also produce a great look when used for the exterior panels. Fir offers a combination of durability and attractiveness, which makes it perfect for garage doors. When used as a framing material, the fir's stiffness and density mean it won't warp or buckle over time, which would prove disastrous for panels affixed to a frame. However, the distinct look of Douglas-fir also makes it especially attractive for exterior use because it offers a striking and noticeable grain. When properly treated and stained, the grain will stand out remarkably and show patterns that most other construction-grade woods don't display.
Mahogany
Mahogany is one of the more expensive options for a garage door, but it also produces some of the most attractive effects. Mahogany is a hardwood and as such is extremely solid, durable, heavy and costly. Because of this, most mahogany garage doors don't utilize a solid piece of the wood. Instead, a frame of lighter, cheaper but equally durable softwood such as Douglas-fir is combined with solid mahogany panel insertions. In addition to extreme longevity, mahogany provides an array of styles to choose from. Like granite for a counter top, mahogany offers a number of colors and looks that all react differently to stains and paints.