Wooden Doghouse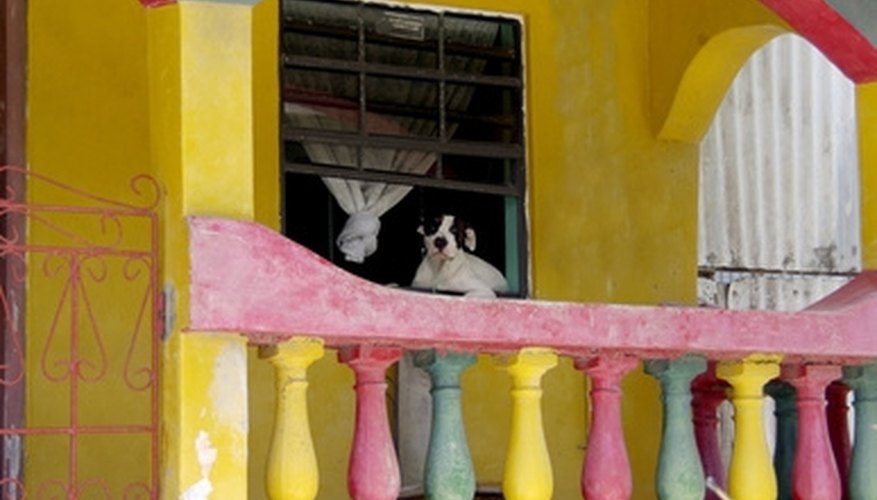 Most of the doghouses stocked in pet stores are rather expensive, however, so creating one yourself is a savvy, cost-saving alternative. You can repurpose items that are lying around your house or garage taking up space and gathering dust or get crafty with a few basic building supplies and natural materials.
Build a wooden doghouse by nailing together a few thin sheets of plywood with four walls and a roof to create a sturdy shelter, then coat it with paint or wood stain of your choosing for a custom finished look. Angle the roof boards to make a triangle-shaped top, giving it the classic lines of a cute cottage doghouse.
Trash Can Hut
A plastic trash can already has the proper shape of a small hut. Flipped over so its bottom serves as a roof, and with a small doorway cut out, a plastic or rubber trash can works well to provide a safe and comfy shelter for your pooch. Since trash cans come in a variety of sizes, you can pick the one that will work best for your pet's size and decorate it as you wish. If you want to paint it, choose a paint that is made to adhere directly to plastic, so it won't flake off.
Teepee House
For smaller dogs, a miniature teepee made of spare branches can make a nice home. Collect some bare branches from your yard and lean them against one another in an upside-down cone shape, then secure them in place with some twine. Put a comfy outdoor pillow or blanket inside to add some warmth, as the wind can sneak in between the branches.