Fencing Options for Renters
Fencing can be used for a variety of functions--keeping your dog securely within the garden boundaries, stopping people from walking over your property or simply for the aesthetic look. If you own the land this is no problem but for renters, who may not be allowed to make such changes, it can prove to be a problem. There are options available to renters for fencing that does not permanently mark the land and can be removed and erected with ease.
Temporary Fence Rental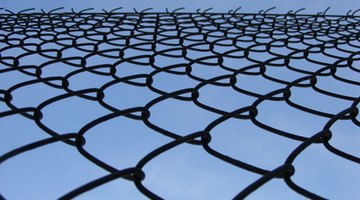 If you need a fence quick and only for a short time, a temporary fence can be rented. There are many companies throughout America that offer temporary fences for rent. Often these are used by companies as a temporary barricade but they can also be used for residential property. The fences are free standing and usually made from steel. Horizontal poles lie across the ground at intervals to support the fence.
Pre-fabricated Frame Fence
A pre-fabricated frame fence comes in ready-to-assemble sections. These sections are screwed together to form a fence of any size, and by simply unscrewing them, the fence can be quickly and easily dismantled. Again, like the temporary fence, the frame fence uses horizontal beams to support its weight. The fence can be installed more permanently by laying down a concrete strip that the fence is secured to. This style of fencing is available from garden and hardware stores throughout the country as well as fencing specialists. This style of fence can be usually rented or purchased from any garden and fencing store throughout the country.
Temporary Modular Fencing
Coming in wooden and metal modules, the temporary modular fencing is designed to be assembled by only two people, making it ideal for home use. The modular fencing is as quick to dismantle as it is to install. The panels can be solid or meshed and patterns are not uncommon. This style of fencing can be installed on any type of surface, according to Temporaryfence.org. This can be an advantage for the renter who moves property regularly, as he would not have to worry about finding a specific surface for the fence whether it be soil or concrete.
References
Writer Bio
Alan Faeorin-Cruich has been writing and editing professionally since 2001. He has worked for publications such as "FLAGS Press" and "3DK." He specializes in legal and business topics. Faeorin-Cruich has a bachelor's degree from Edinburgh Napier University.
Photo Credits
More Articles