Decorating Ideas for Kitchen Soffits
The soffit is the space between the top of the kitchen cabinets and the ceiling. It is essentially a bulkhead, built out from the perimeter wall to encase the tops of the cabinets. Soffits above kitchen cabinets can be decorated with special wallpaper, artwork, antique kitchen artifacts or anything else that fits the decorating scheme of your kitchen.
Wallpaper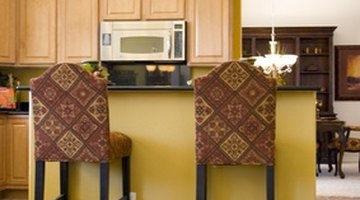 Papered entirely with an accent wallpaper or dotted with cutouts from the wallpaper pattern used on the lower walls, soffits are perfect for displaying small quantities of vintage wall coverings. Seldom more than 18 to 24 inches from top to bottom, most kitchen soffits can be covered with less than one roll of wallpaper for the entire soffit.
Pictures or Photographs
Hang artwork that is wider than it is long, which is the perfect shape for a soffit. Use artwork that fits the theme of your kitchen. For a mid-century modern kitchen, use "space age" type photos; for a colonial kitchen, use patriotic photos; for a country kitchen, use pictures of barns and farms.
Kitchen Antiques
A soffit above the kitchen cabinets is an excellent place to display antique kitchen artifacts. A tarnished egg beater, cooking utensils with painted wooden handles, advertising signs for old-time products, copper molds or vintage wicker baskets all become artwork when displayed as a collection on a kitchen soffit.
References
Writer Bio
Sharon Sweeny has a college degree in general studies and worked as an administrative and legal assistant for 20 years before becoming a professional writer in 2008. She specializes in writing about home improvement, self-sufficient lifestyles and gardening.
Photo Credits
More Articles