Leather and Suede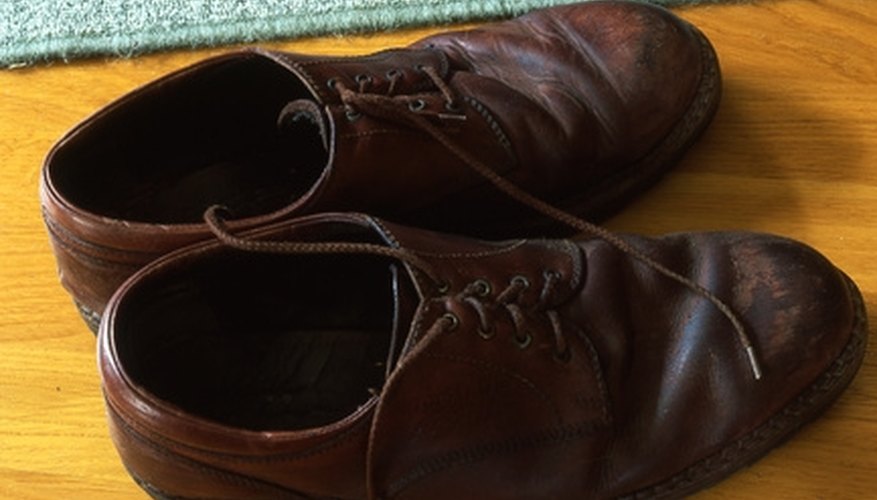 Keeping shoes looking as good as the day you bought them requires regular cleaning and stain removal. Shoes are made of various materials, which require different cleaning solutions to remove dirt and grime without damaging the shoe. Cleaning your shoes with the correct solutions can also help them to last longer, and these remedies you can do at home.
You can use white vinegar on leather shoes for general cleaning. You must condition the leather after cleaning with vinegar to keep the leather soft and supple. Road salt during the winter can be removed from the shoes with a solution of one part white vinegar and one part water sprayed onto the shoes. Wipe away the salt from the shoes and apply a conditioner. Olive oil and a cold-pressed nut oil can condition leather shoes. A paste made of lemon juice and cream of tartar in equal portions can remove difficult stains from leather shoes. Use the paste directly on the stain and work into the leather. Wipe off the paste after removing the stain. Leave the paste on the stain for a few hours if the shoe does not wipe clean. After using the paste on a stain, clean the shoe and apply conditioner to the leather.
You should not wet suede to clean shoes. The manufacturer of the shoes may recommend a special cleaner for the suede shoes. Art gum erasers may remove stains from suede shoes without damaging the material.
Plastics
Plastic flip-flops and sandals are fun to wear during the summer, but the inexpensive shoes can become dirty after constant wear. To keep the summer shoes looking good, wash with warm soapy water. To clean difficult to reach areas, scrub with a toothbrush or run them through the dishwasher to clean the shoes.
Canvas Sneakers
You can wash your canvas sneakers in the washing machine to remove everyday dirt and grime. Wash with white vinegar to remove stains from the shoes. To whiten shoes in the washing machine add Borax or washing soda to the laundry.