How to Clean White Rubber Soles
Dressy or special occasions don't always require that you wear formal shoes. You can sometimes get away with wearing tennis shoes or sneakers at such events, as long as the rest of your outfit is appropriate and your shoes complement your outfit.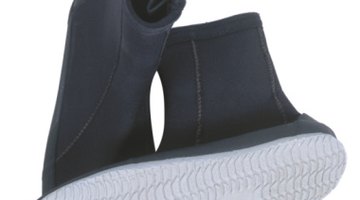 However, your shoes must be sparkling and immaculate, something which can be a problem with white soled shoes. Luckily, you can clean them to regain their original appearance.
Things You Will Need
Powdered abrasive cleaner
Spray bottle
Water
Old toothbrush
Paper towels
Whitening tire cleaner
Scrub brush
Dirty Rubber Soles
Turn your shoes over and generously sprinkle a powdered abrasive cleaner onto each sole. Fill a spray bottle with water and spray the sole of each shoe lightly to make a paste.

Scrub the soles of each shoe with an old toothbrush, removing caked in and embedded dirt.

Rinse off the shoes and pat them down with paper towels. Let them air dry fully.
Discolored White Rubber Soles
Spray the rubber soles of the shoes liberally with a whitening tire cleaner. Allow the solution to soak into the rubber for around five minutes.

Scrub the rubber soles with a scrub brush, until you see the soles start to regain their white color.

Rinse well and pat dry with paper towels.
References
Writer Bio
Lane Cummings is originally from New York City. She attended the High School of Performing Arts in dance before receiving her Bachelor of Arts in literature and her Master of Arts in Russian literature at the University of Chicago. She has lived in St. Petersburg, Russia, where she lectured and studied Russian. She began writing professionally in 2004 for the "St. Petersburg Times."
Photo Credits
Hemera Technologies/PhotoObjects.net/Getty Images
Hemera Technologies/PhotoObjects.net/Getty Images
More Articles