Sticking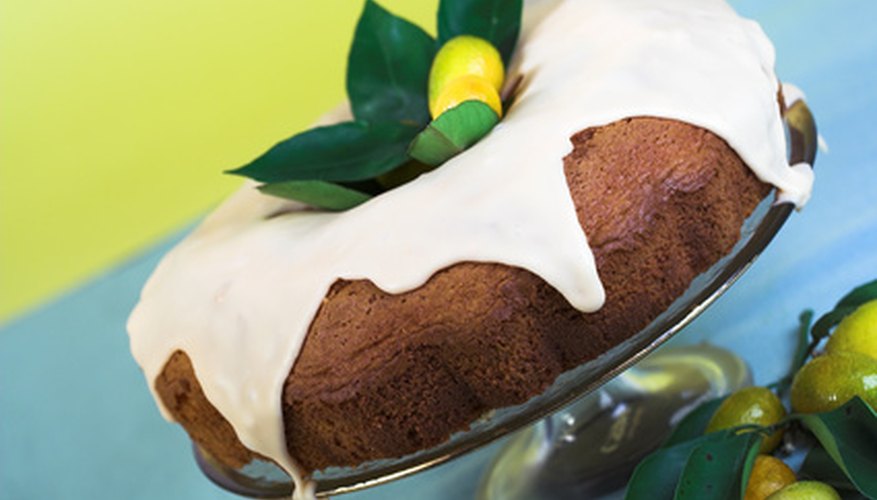 The pan is coated with a non-stick finish to supposedly make it easier to unmold a cake after it's baked. Silicone bakeware is also intended to promote even heat distribution. Despite its reported advantages, certain problems have been reported with bakers using silicone Bundt pans.
One of the most widely reported problems is cakes sticking to the Bundt pan. According to a reviewer of KitchenAid's silicone bakeware, her cakes stuck more with these pans than cakes baked in metal or glass pans. Another individual found that while she did not have problems unmolding the cake when she peeled the pan's sides back, the surface layer stuck to the pan. This made the cake less attractive, which is one of the reasons why people use a Bundt pan--to impress guests with a unique-looking cake. Perhaps Marian Burros in her New York Times article on silicone said it best: "stick resistant is a better description" (referring to silicone). Unfortunately, greasing the silicone pan or spraying it with cooking spray does not prevent the cake from sticking.
Uneven Baking
Individuals noted problems with uneven cooking when using silicone Bundt pans. Although the cake appeared done in certain sections, other sections needed more baking time. For example, the "toothpick test" repeatedly would show the outside and center of the cake being done, while other areas of the cake were uncooked. All silicone, however, is not created equal. Certain manufacturers insert fibers to silicone to save money on production, but it also jeopardizes the product's quality. Twist or bend a flat piece of the Bundt pan and if white comes through; the pan likely is made with filler. A pure silicone-made pan should retain its color when its bent, twisted and pulled. Silicone made with fillers does not conduct heat evenly and performance is comprised, which could explain problems related to uneven baking.
Browning
Silicone does not retain heat as well as metal or glass pans. The result is that cakes baked in silicone Bundt pans do not brown or have a crust.
Smells
Silicone Bundt pans can produce a burnt plastic smell when baked in the oven. The odor may be attributed to silicone pans containing filler.
Pan Discoloration
Silicone Bundt pans discolor with repeated use. An individual discovered silicone Bundt pan user discovered that baking with her pink pans turned them brown and baking with her red pans turned them black.
Limited Use
Although silicone bakeware is oven, microwave and freezer safe, it cannot be used on the stovetop or on direct heat as this can damage the pan.
Maintenance
Unlike glass or metal Bundt pans, silicone pans cannot be cleaned with abrasive soaps or scouring pads. Silicone Bundt pans must be cleaned either in the dishwasher or by soaking them in warm water with mild soap. In addition, boiling a Bundt pan with equal parts white vinegar and water was only modestly effective at ridding pans of bits and pieces of cake left behind in the mold.