Leakage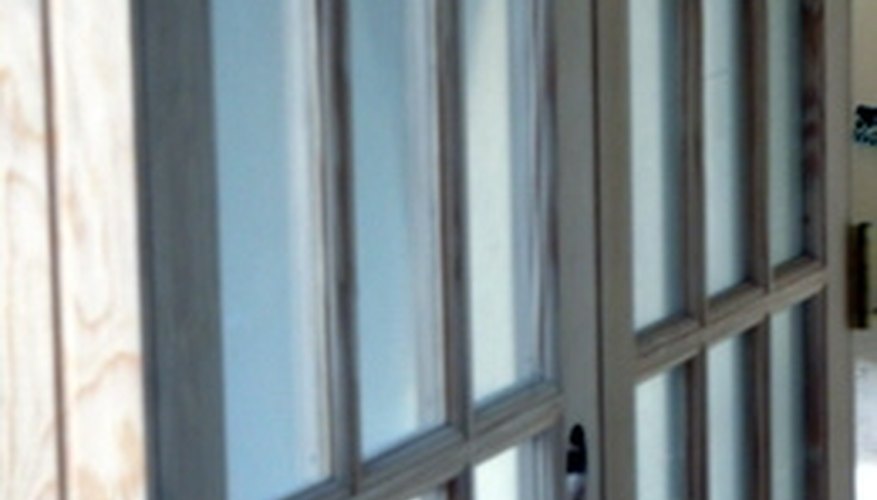 They allow light to penetrate a home and open up a space. French doors operate either on a hinge or a slider to open and close. For the most part, French doors require little maintenance to perform properly. However, problems can arise with installing and operating French doors.
A columnist with Seattle Pi, a home improvement advice column, reports that certain French door styles have a tendency to leak at the joining seam. The joining seam is where the glass panel meets the door panel. During inclement weather, pressure from strong wind combined with heavy rain can cause water to penetrate the seam. To reduce the risk of leakage, the columnist suggests installing a storm door or awning and planting bushes near the door to break the wind.
Slider Issues
Marvin Windows and Doors found that, in some cases, French doors operating on a slider fail to slide smoothly when the door is opened or closed. This is likely caused when the door's rollers get out of line. To correct the issue, unlock the door and move the operator panel to the side of the jamb, so that outside light now shows through between a crack in the door and jamb. Adjust the roller until it's level with the door and the crack of light shows evenly from top to bottom. The adjustment can be made with a flathead screwdriver that turns the holes at the bottom of the operator panel. The adjustment should alleviate the slider issue and allow the door to slide smoothly again.
Installation
Although French doors can be installed without the use of a skilled contractor, it's important to consider the age of the home and its infrastructure before taking on the task of installation on your own. One problem with standard French doors is that they do not always accommodate older homes as well as new ones. Older homes made with plaster walls, instead of drywall, may require a custom jamb or modifications to the standard jamb accompanying the new door. The jamb depth used in newer constructed homes suits the framing materials and the joint thickness of the interior wall finish and exterior wall sheathing. Yet standard French doors do not match up so perfectly in older homes and generally require some modifications to ensure the door is installed correctly. According to Ask the Builder, a home improvement informational website, a manufacturer of custom-made doors should be able to design a jamb to suit a homeowner's individual needs.