Problems With Behr Wood Stain
Homeowners stain wood decks to seal them from moisture, which can cause wood to crack and rot. Homeowners also use stain to preserve a deck's natural wood appearance. Behr wood stain is a product sold by home improvement stores. Behr stain comes in a variety of color options and a transparent finish. Although the stain generally performs well, problems have been reported by consumers.
Requires Tedious Preparation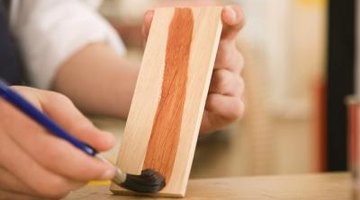 Behr recommends consumers prepare the deck before stain is applied. This includes removing mold, debris, and residue that may have stained the deck. Behr suggests several of its own products for homeowners to use for this preparation, including stain strippers and mildew removers. Depending on the age of your deck and its condition, the preparation process may be tedious, time consuming, and expensive if you buy all the products Behr suggests.
Makes Deck Sticky
Behr stains require two applications to achieve the desired color and seal. Homeowners must apply the second coat within 48 hours of the first, in temperature-specific conditions (i.e., between 40 and 90 degrees Fahrenheit with no rain for at least 24 hours upon completing the final coat). In spite of following these explicit instructions, a homeowner noted on One Project Closer, a do-it-yourself website, that the deck felt sticky for up to three weeks after staining. The homeowner noted that even though he applied the second coat within 46 hours of the first coat, the deck took a long time to dry. As a result, the homeowner suggests applying both coats on the same day to lessen dry time.
Does Not Match the Stain Swatch on the Can
The homeowner who recorded his experience using Behr stain on One Project Closer also found that the stain swatch on the can did not match the color of the deck after the stain was applied. He found that the color looked much darker when applied to the deck. He also said the stain gave the deck an orange hue contrary to the natural look he wanted.
Peeling
Consumer Search, a consumer product review website, found in its examination of consumer reviews posted on other websites that consumers are not pleased with the performance of Behr wood stains. Consumers find the stain thin. After it is applied, consumers note that it tends to peel, exposing the wood underneath.
References
Writer Bio
Christie Gross has been writing since 1998. Her work writing public policy platforms for elected officials nationwide has been featured in national and local newspapers under various client pen names. Gross has a Bachelor of Arts in English and political science, as well as a Master of Public Administration from the University of Delaware.
Photo Credits
Jupiterimages/BananaStock/Getty Images
More Articles