Bad Things About Composite Decking
Many homeowners consider composite decking instead of natural wood for its durability and low maintenance requirements. Composite decking is made from a combination of wood and plastic, and is marketed as providing the look of wood without requiring as much maintenance.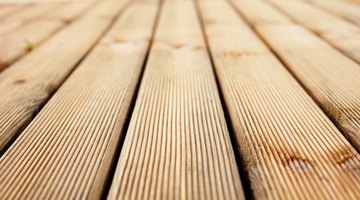 However, if you are planning to build a composite deck in your back yard, there are several problems associated with composite decking materials that you may want to consider before committing to a material for your deck.
Cost
While composite decking typically lasts longer than traditional wood decking, it is much more expensive than its counterpart. According to Ideas for Deck Designs, composite decks may cost between two and five times more than decks built from pressure-treated lumber. Homeowners on a budget may find that composite decking is cost prohibitive despite the possibility that they will recoup the initial cost of the deck through decreased maintenance costs over the long term.
Fading and Stains
Composite decks generally hold up better than wood decks, but they are still prone to weathering over time. In particular, composite decks are prone to fading because they are exposed to sunlight year-round. Placing your composite deck under an awning or other covering may help preserve its color, but not all homes can accommodate this type of setup. In addition, some types of composite decks can stain easily. Natural elements like leaves and sap may stain a composite deck, and homeowners who plan to grill on their deck may find that grease, barbecue sauce, ketchup and other food items can easily stain the surface as well. Some composite deck companies sell paints that are pre-matched to their decking materials so homeowners can cover stains or brighten up fading decking. However, one of the selling points of a composite deck is that it never needs to be painted, so homeowners may find this maintenance chore particularly annoying.
Plastic-Like Appearance
Homeowners usually turn to composite decking materials because they enjoy the look of real wood but are turned off by upkeep measures required to maintain it. Composite decking materials are usually designed to simulate the look of real wood grain. However, in many cases, composite decking has a shiny, plastic-like appearance that belies the natural look that homeowners are usually trying to achieve. In addition, even those composite materials that resemble real wood when installed may begin to look artificial if their color fades unevenly.
Additional Support Required
Composite decking materials are weaker than natural wood, so they cannot support their own weight and may begin to sag if they are not properly supported. As a result, composite decks require smaller joist spacing than traditional wood decks to provide additional support. Many composite decking companies suggest that their decks be framed with joists that are 12 feet apart as opposed to the usual 16 feet recommended for wooden decks.
References
Writer Bio
Based in New York City, Jennifer Blair has been covering all things home and garden since 2001. Her writing has appeared on BobVila.com, World Lifestyle, and House Logic. Blair holds a Bachelor of Arts in Writing Seminars from the Johns Hopkins University in Baltimore, Maryland.
Photo Credits
Deck de madeira image by CarlosNeto from Fotolia.com
Deck de madeira image by CarlosNeto from Fotolia.com
More Articles