Does Trex Decking Get Hot in the Sun?
Unlike wood decking, which requires regular painting, staining and sanding, Trex decking requires little upkeep and is resistant to rotting, warping and splintering. Trex Company, Inc. is a member of the U.S. Green Building Council, and all decking products contain environmentally friendly recycled materials. The 25-year warranty that comes with the purchase of Trex is also a plus for consumers. Despite all of its advantages, Trex decking does have a few drawbacks, particularly when it comes to the sun.
What is it?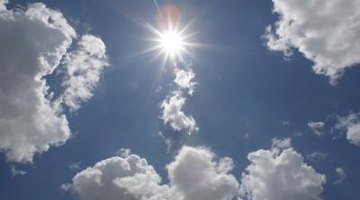 Trex decking is a composite material. Made from plastics that would otherwise end up in landfills, Trex composites also contain recycled wood such as that from discarded wood pallets and sawmill dust. The decking is available in two styles – smooth and a wood grain finish that looks close to the real thing. A variety of Trex colors are also available, which has a large impact on just how hot the decking gets during the height of summer.
Direct Sun
When it comes to heat retention, wood fares better than Trex, especially when the hot sun is beating down on the deck. While wood gets hot enough to make walking with bare feet uncomfortable, composite decking gets even hotter. In some cases, Trex can become so hot that it may become unusable under intense, direct sunlight. The darker the Trex decking material, the more heat is retained.
Solutions
If you live in a hot climate, building a Trex deck on the side of your house that has the most shade can cut down on heat retention. When trees fail to do the trick, building a pergola or securing an awning above the Trex decking can cut down on the amount of heat absorbed by the composite materials. If you have no other option but to build Trex decking in direct sun, opt for the lightest color possible to reduce heat retention.
Warnings
While building a Trex deck in the shade may solve the problem of heat absorption in some instances, it may also cause a new problem to develop. Dirt and debris on the surface of the Trex attract mold and mildew, which favor temperatures between 40 and 90 degrees Fahrenheit. Without direct sun to kill the spores, mold and mildew thrive. Moisture that builds within clogged-up gaps of the decking is even more enticing to mold and mildew spores. Cleaning Trex with a commercial cleaning agent can help hinder mold and mildew growth.
References
Resources
Writer Bio
Jonae Fredericks started writing in 2007. She also has a background as a licensed cosmetologist and certified skin-care specialist. Jonae Fredericks is a certified paraeducator, presently working in the public education system.
Photo Credits
Hemera Technologies/AbleStock.com/Getty Images
More Articles