List of Alternative Products for Lumber
When choosing supplies for a building project, consider the alternatives to traditional wood lumber. The obvious benefit for those concerned about the environment is alternative lumber doesn't require cutting down trees. Other reasons to choose alternative lumber include low maintenance and resistance to rot.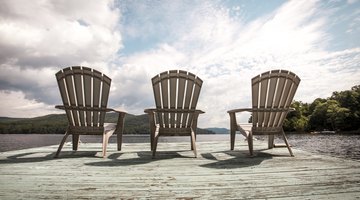 Also, staining or painting is not required. Alternative lumber is available at many home improvement stores and lumberyards, but you should learn your options before you buy.
Composite Lumber
Composite lumber is a blend of wood waste and plastic. The ratio is typically 50:50, although variation exists among different brands. The boards of some brands are hollow, but other brands offer solid boards that look like traditional lumber. Composite lumber comes in several different colors and sizes with a wood grain appearance. Working with composite lumber is very similar to working with traditional lumber.
Recycled Plastic Lumber
Recycled plastic lumber is manufactured with 90 percent to 100 percent recycled plastic. Some brands also incorporate fiberglass into the lumber for added strength and stabilizers for increased resistance against ultraviolet fading. If used for decking, support crossbeams should be placed closer together to prevent plastic lumber from cracking. Recycled plastic lumber comes in a variety of colors. Some brands have a wood grain appearance, but others have smooth and solid coloring and texture. When working with plastic lumber, avoid running your drills at a high speed or you may melt the plastic onto your drill bit.
Virgin Plastic Lumber
Although still preventing the harvesting of trees for your building project, virgin plastic lumber does not carry as many environmental benefits as composite wood or recycled plastic lumber. If you are opting for alternative lumber products due to a concern for the environment, check that your plastic lumber is made from recycled materials before you make your purchase. Virgin plastic lumber has similar properties to recycled plastic lumber.
Cost of Alternative Lumber
Alternative lumber is usually more expensive to purchase than traditional lumber. Over time, however, alternative lumber turns out to be less expensive. Alternative lumber does not need to be stained or painted unlike traditional lumber, which requires this every few years or more. Because it is resistant to rot and splintering and is more durable than traditional lumber, alternative lumber won't need to be replaced or repaired as often as wood. Alternative lumber requires almost no maintenance other than to be cleaned.
References
Writer Bio
Based in Portland, Ore., Tammie Painter has been writing garden, fitness, science and travel articles since 2008. Her articles have appeared in magazines such as "Herb Companion" and "Northwest Travel" and she is the author of six books. Painter earned her Bachelor of Science in biology from Portland State University.
Photo Credits
cmart7327/iStock/Getty Images
cmart7327/iStock/Getty Images
More Articles