Lasco Shower Pan Specifications
The Lasco Bathware company has been in business for more than 40 years, making bathroom products. One out of every four homes has a Lasco product with no other company coming close, according to the Lasco website. In addition to a wide variety of bath tubs and showers, Lasco also makes shower pans. Shower pans, also known as shower bases and shower trays, form the bottom part of the shower area.
Pan Shapes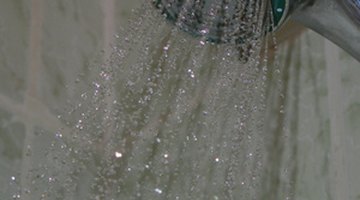 Lasco shower pans come in a wide variety of shapes. Currently available are 22 different models. Shapes include square and rectangular pans, the neo-angle corner design, the raised front profile, as well as shower pans with an integral left- or right-hand corner seat.
Standard Features
Different shower pans come with different standard features. Neo-angle designs have center drains, a reduced threshold for easy entry, integral nailing flange, brass drains with stainelss steel covers and patented design features, such as corner drainage channels. Square and rectangular shower pans have a center drain, raised front profile, integral nailing flange, and patented features which also include corner drainage channels. Some rectangular designs have center rear drains. Shower pans with the integral corner seat have a center drain, or a left- or right-hand drain, integral nailing flange, a brass drain with stainless steel cover, and patented design features such as corner drainage channels.
Finishes and Colors
Lasco shower pans come in several different finishes and a wide variety of colors. Shower pans are made from composite materials, Lascoat gelcoat and acrylic. The pans provide a non-porous surface that is easy to stand on and keep clean. A total of 17 colors are available for most models. They include white, black, navy, sterling silver, ice gray, almond, wild rose and skylight blue.
Pan Sizes
Lasco shower pans are available in a wide range of sizes. Neo-angle shapes sizes are 36-by-36-by-4, and 38-by-38-by-6. Square pan sizes are 32-by-32-by-6, 36-by-36-by-6 and 42-by-42-by-6 inches. Rectangular shapes available include 36-by-42-by-6, 42-by-34-by-6, 42-by-36-by-6, 48-by-34-by-6, 60-by-34-by-6, 60-by-42-by-6 and 72-by-48-by-6 inches. A shower pan model with the integral corner seat measures 60-by-32-by-20 5/8 inches.
References
Writer Bio
Carolyn Green has been a freelance writer since 1989. She has written for BETweekend, Good Old Days, Baby's World and more. A teacher from New York, she also taught in Seoul, where she wrote for a Korean publication. Her passions include world travel, nutritional research and alternative medicine. She holds a Bachelor of Arts in English literature from State University of New York, Old Westbury.
Photo Credits
More Articles