List of Amana Washer Model Numbers
Amana features many models of washing machines, with both front and top loading. The company website describes their washers as "smart and stylish." Capacity ranges from 4.5 to 2.5 cubic feet. When shopping for washers at local retailers, use the individual model number to identify prices and features of each machine.
NFW7600XW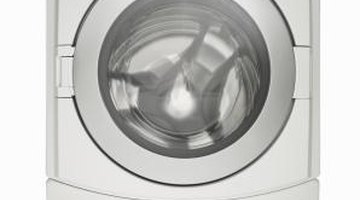 Amana's top-of-the-line front-load model comes in white with chrome. Energy Star qualified, cycles include whitest whites, heavy duty, quick wash, delicate, custom and normal. Limited one-year warranty includes parts and labor valid one year from purchase date. The washer features Everspin Vibration Control Plus, and a flexible configuration allowing for siting on top of or next to a dryer. This model has a 4.5 cubic foot capacity. For 2010, the manufactuer's suggested retail price is $999.00.
NTW4800VQ
This mid-range top-load model washer comes in white with a capacity load of 3.2 cubic feet. Because it includes anti-microbial components, this machine stays clean in between washings. This protection prevents bacteria that cause stains and odors from growing on the tub ring. This model has a porcelain wash basket. This washer features 16 cycles, including heavy, regular, casual and light, along with five water level selections. In 2010, the manufacturer's suggested retail price is $479.00.
NTW5100TQ
The smallest of the Amana washer models, NTW5100TQ comes in white with a 2.5 cubic square foot capacity. A traditional top-load machine, this model features four cycles with three water levels to help reduce water waste as well as two water temperature selections. The porcelain wash tub is scratch and stain resistant. The console includes "soft-grip touch points" for ease of use. For 2010, the manufacturer's suggested retail price is $369.00. Prices may vary depending on the retailer.
References
Writer Bio
Jane Meggitt has been a writer for more than 20 years. In addition to reporting for a major newspaper chain, she has been published in "Horse News," "Suburban Classic," "Hoof Beats," "Equine Journal" and other publications. She has a Bachelor of Arts in English from New York University and an Associate of Arts from the American Academy of Dramatics Arts, New York City.
Photo Credits
Ryan McVay/Photodisc/Getty Images
More Articles