Specifications for Kenmore Washer 417.41042000
The Kenmore Washer 417.41042000 is no longer in production. However, parts are available directly from Sears. The washer is a front-loader, with the advantages common to a front-loading washing machine. These are energy and water efficiency, the need for less detergent and gentleness on clothing.
Dimensions and Weight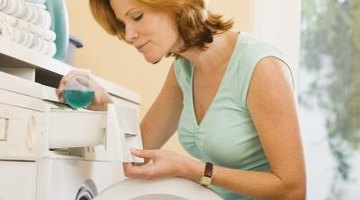 The Kenmore Washer 417.41042000 is white and weighs 218 lbs.. It is 36 inches high to the top of the control console, 26 3/4 inches wide and 27 1/4 inches deep.
Electrical Specifications
The Kenmore Washer 417.41042000 requires a 15 ampere grounded electrical outlet. Kenmore recommends the use of a three-prong plug. Current required is 120 volts and 60 hertz (HZ). The length of the power cord is 5 feet. The unit has a variable speed motor.
Other Specifications and Features
Kenmore rates the washing drum as an extra-large capacity at 3.1 cubic feet. The tub itself has three agitator vanes and is stainless steel with a limited lifetime warranty. Top-mounted rotary controls manage the motor speeds composed of two wash cycles and five spin cycles. The machine includes a total of 15 different cycles. The washer's top and lid finish are manufactured with Kenmore's Dura Finish technology. This Kenmore washer has automatic temperature control and an automatic water sensor that fills the washer with the proper amount of water for the size of the wash load. Excluding the wash tub, the unit has a one-year warranty on labor and a two-year warranty on parts.
Energy Use
According to Kenmore, the Kenmore Washer 417.41042000, based on washing eight loads of laundry per week, will save 9,451 gallons of water per year, cutting energy consumption by 77 percent for an annual energy savings of $80 as of November 2010. Kenmore also claims that, compared to conventional washers, this machine only uses 14.28 gallons of water verses 40 gallons.
Writer Bio
Alan Edwards began writing in 2005. He is a retired pharmaceutical industry analyst, a career that allowed him to hone his research and writing skills. Edwards holds a Master of Business Administration in health care from Xavier University in Cincinnati and a Bachelor of Arts in economics from the University of Pittsburgh. Now, he writes full-time.
Photo Credits
Jupiterimages/Pixland/Getty Images
More Articles