The Maytag MAV208DAWW Specs
The Legacy MAV208DAWW is a Maytag top-loading washing machine. This washer is designed for use in a residential setting and provides all the standard features needed for normal and heavily soiled loads, including a variety of different wash cycles, water levels and temperatures. The Maytag Legacy is relatively simple to use but should be operated only by an adult who is familiar with using washing machines.
Capacity and Size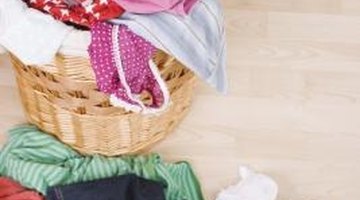 The Maytag Legacy MAV208DAWW is a super capacity, top-load washing machine that holds 3.3 cubic feet of laundry. Its has an overall depth of 27 inches, overall height of 44 inches and an overall width of 27 inches. It features a wrap-around cabinet designed to maintain structural integrity, prevent rusting and remain durable.
Wash Cycles
The Maytag MAV208DAWW washing machine features 10 different pre-set washing cycles, including heavy duty, regular, delicate, extra rinse and wrinkle-free. It has three levels of temperature ranging from cold to hot, and five water levels, including mini, small, medium, large and super. The Legacy washer also includes the LoadFlex agitator, which moves larger loads through the washer more evenly for a thorough clean.
Spin Speed
The Maytag Legacy has a fast spin cycle that operates at a maximum rotation of 620 full rotations per minute. This washer features the Poly-Pump water extractor to quickly pull away dirt and residue from clothes, and the Swirl-Away drain that extracts water from the tub to prevent dirt from redepositing. The Legacy includes extended spinning that helps to reduce the amount of water left in clothing and, thereby, reduces drying time. It also features the SturdySpin suspension, out-of-balance handling system that's designed to reduce the thumping and bumping found in most large-load spin cycles.
Additional Features
The Maytag MAV208DAWW offers separate dispensers that automatically release bleach and fabric softener into the wash cycle, as well as status and end of cycle indicators. The Legacy also offers various safety features, including the safety spin and overload protector; the safety spin will automatically stop the washer if the lid is lifted in a spin or extract cycle, and the overload protector will shut off the motor in the event of an overload.
References
Writer Bio
Madison Rayne first started her writing career in May 2008. She has written numerous articles for various online publications. Rayne is currently pursuing a Bachelor of Science in accounting and psychology through Liberty University.
Photo Credits
Jupiterimages/Polka Dot/Getty Images
More Articles