Parts of a Daisy 86/70 Air Rifle
Created in 1970 by Daisy, the Model 86/70 air rifle, or BB gun, resembled a high-powered safari hunting rifle. The 86/70 air rifle was discontinued in 1977. At 30 inches long and constructed from sturdy plastic and metal components, the gun enjoyed a reputation for accuracy and durability. More than 40 years after it was introduced, Daisy's Model 86/70 gun is a highly prized collectible air rifle.
Cocking Lever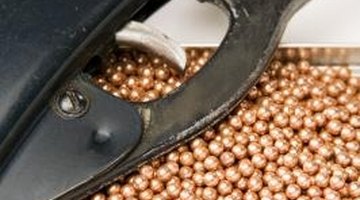 Located behind the trigger and under the gun's front part, the uncommon cocking lever pulls down and forward until it latches. The lever includes the trigger. After a BB pellet is loaded into the chamber, the metal lever returns to its normal position hidden from view. The 86/70 air rifle was Daisy's only model to use this style of lever.
Loading Gate
The loading gate is positioned on the barrel's underside 6 inches from the tip of the muzzle. Open the 1-inch metal gate by pushing it in and rotating to the right. When fully loaded, the 86/70 gun holds 200 BB pellets. It is important not to over-load the gun with pellets since doing so can jam it.
Pistol Grip
The curved, solid, plastic pistol grip helps keep the 86/70 shooter's hand from slipping. Situated behind the trigger, the grip measures 6 inches long. The diamond-pattern texture on the grip makes the gun comfortable to hold and easier to aim.
Stock
Constructed from sturdy plastic, the stock of the 86/70 has a dark walnut wood-grain appearance. Also called the butt stock, it is slightly concave at the end to fit snugly against the shoulder. The stock is the gun's main support that allows the shooter to aim.
Barrel
The 86/70's 18-inch solid metal barrel extends from the tip to the area over the trigger. It contains an small circular hole 12 inches from the tip where the user puts gun oil drops to lubricate the interior mechanism. The barrel is rust- and tarnish-proof.
References
"Daisy Air Rifles and BB Guns: The First 100 Years"; Neal Punchard; 2002
"Total Airguns"; Pete Wadeson; 2005
"Blue Book of Airguns, 5th Edition"; Robert D. Beeman; 2005
Writer Bio
Since 1998 Valerie Valdez's articles have appeared in the "Austin Business Journal," "Austin Women" and "Inside Austin." Valdez has enjoyed working in broadcasting for NBC, PBS stations and for the U.S. Army. She earned a Bachelor of Science in radio-TV from the University of Texas and a Master of Arts in theater from Texas State University.
Photo Credits
Jupiterimages/liquidlibrary/Getty Images
More Articles