How to Resurface a Vanity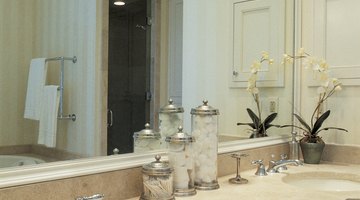 If your bathroom vanity top is outdated or shows signs of wear and tear, you can resurface it for much less than the cost to replace it. Most vanities are custom designed to fit the dimensions of a bathroom, so you'd likely need to hire contractors to build one to meet your bathroom specifications. Resurfacing an existing man-made acrylic or laminate vanity is a fun and invigorating home improvement project that will give your old-fashioned vanity a beautiful face lift.
Preparation Wards Off Disaster
Prepare the surface of your vanity top before you begin the resurfacing project. If possible, remove the vanity top from the vanity itself so you don't risk damaging the wood doors or cabinetry. This might require removing the faucet, drains and handle. If your sink and faucets are caulked to your vanity top and removal is difficult, use painter's tape and newspaper to tape off your vanity base, sink and hardware. Make sure the entire countertop is uncovered so you don't have unsightly spots once you remove the painter's tape. Wash the entire vanity surface with a lime-removing cleaner. Sand the vanity top with fine grit sandpaper using a hand sander.
Time to Prime
Apply a high-quality primer that's specially designed to work on a synthetic acrylic or laminate vanity top. You don't want your paint and topcoat to peel, so it's best to let one coat of primer dry completely and then add a second coat. Use a paint brush to apply the first coat and a 4-inch roller with a low-nap for the follow-up primer coat. The first paint-brushed coat ensures that you get sufficient coverage and the second rolled-on coat creates a smooth surface, free of streaks and bubbles.
Painting Options
Choose one of two paint options for resurfacing your vanity countertop. Opt for a resurfacing kit if you want a specific color or a predetermined pattern, such as granite or marble. Follow the instructions on the kit to ensure that your paint application is aesthetically pleasing and durable. Opt for a handcrafted design if you want to incorporate your own colors, swirls, flecks and patterns into your vanity. Select acrylic craft paints in colors that coordinate with your other elements of the room, such as your furniture, wall color, flooring and vanity base. Earth tones and neutral colors, such as white, beige, tan and light gray, are versatile options. Use sea sponges to dab on paint and create a pattern that suits your style.
Don't Skip the Topcoat Finish
Apply a durable topcoat that's designed for painted surfaces such as vanity countertops. It's important to get a topcoat sealer that dries to an extremely hard state, so your vanity doesn't flake or peel over time. Plus, you want the surface to tolerate splashed water, cosmetics and heated surfaces, such as curling irons. A topcoat product has the consistency of a thick syrup until it dries, and is best spread with foam brush to avoid smears, streaks and paintbrush lines. Follow the manufacturer's topcoat drying instructions, because you want your resurfaced vanity to last for years.
References
Writer Bio
As curriculum developer and educator, Kristine Tucker has enjoyed the plethora of English assignments she's read (and graded!) over the years. Her experiences as vice-president of an energy consulting firm have given her the opportunity to explore business writing and HR. Tucker has a BA and holds Ohio teaching credentials.
Photo Credits
Comstock/Stockbyte/Getty Images
Comstock/Stockbyte/Getty Images
More Articles