How to Use a Curtain to Hide Open Shelves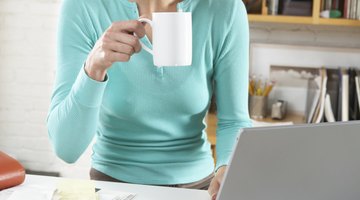 Choosing to use a curtain to hide open shelves is, possibly, mom's second smartest use of fabric. The first is the sarong, which is a must-have for all moms, especially in the beginning of bathing suit season. The curtain, much like the sarong, can hide a multitude of sins, questionable choices and bad ideas. Whether it's a curtain hiding your personal copy of the latest supernatural tween love story or a sarong hiding your "I love vampires" tattoo, fabric has never been more appreciated.
Hot Rod
Choose what rod will work best with the curtain you would like to use. A tension rod fits within a frame and, therefore, doesn't require hardware, but should be used with lightweight curtains. A classic rod has decorative end caps and sits in brackets that are bolted to the wall, while the u-shaped return rod attaches directly onto a wall. Both are available as double rods, should you want to create a layered effect with panel curtains. A track rod is your last option and can be installed on the ceiling or wall and uses drapery hooks, which are attached to the curtain, to pull the curtain back and forth.
Curtain Call
Your rod choice can influence your curtain choice, or vice versa. Tab top curtains are casual and can either be dressed up or dressed down with a classic rod and simple end caps. Rod pocket curtains slip over either a classic or return rod, and pleated curtains are attached to the rod with drapery rings or hooks. Curtains with grommets are best for children. The grommets allow the curtains to be opened easily, they can be used on a classic rod, and the grommets themselves are modern and casual. Use a tension rod for lightweight sheer panels, which add subtle coverage, and with tier and cafe curtains. Both tier and cafe curtains traditionally cover one half of a window, but they may be used to conceal undercabinet shelving in kitchens, bathrooms or utility rooms.
Certain About Curtains
Instead of using traditional window curtains to hide your open shelves, use shower curtains. Best for narrow shelving units, one shower curtain panel can be attached via a tension, return, classic or track rod. Use a fabric shower curtain festooned with hand-drawn animals and trees for a children's bedroom or playroom, or one with bold horizontal stripes for a home office. Some shower curtains aren't as thick as window curtains. Use a lightweight, neutral panel curtain behind the shower curtain for maximum coverage, and hang them from a double version of either a return rod or classic rod. Invest in tiebacks to hold the shower curtains back when you want the shelves exposed.
Say It Ain't Sewn
Show off to your friends and family with easy, no-sew curtains that you made yourself. Measure the size of your shelves and purchase the appropriate size bed sheets. Choose sheets in a solid shade of manly gray for a library or bold colored circles for a pantry. Other crafty fabric choices for covering floor-to-ceiling shelves include canvas dropcloths and flags, while a vintage apron or a series of bow ties can cover open shelves under the laundry room counter. The long curtains can be held in place with drapery hooks, or you can install grommets in the top of the no-sew curtains and use them on traditional rods. The short versions can be tied to tension rods. Increase the creativity and use unconventional rods such as conduit piping with the correct size screw plates and corners, or sturdy tree branches that have been cleaned and varnished before being attached to the wall with a bracket.
References
Resources
Writer Bio
Lowell, Massachusetts-based writer Kris Gleba has been writing home decor articles since 2008. She enjoys all aspects of small home living, from complete gut remodels to ingenius home decorating that incorporates style and function. She has previously written for the "Athol Daily News." She holds a degree in professional writing from Fitchburg State University.
Photo Credits
Marili Forastieri/Photodisc/Getty Images
Marili Forastieri/Photodisc/Getty Images
More Articles