Small Garden Pond & Waterfall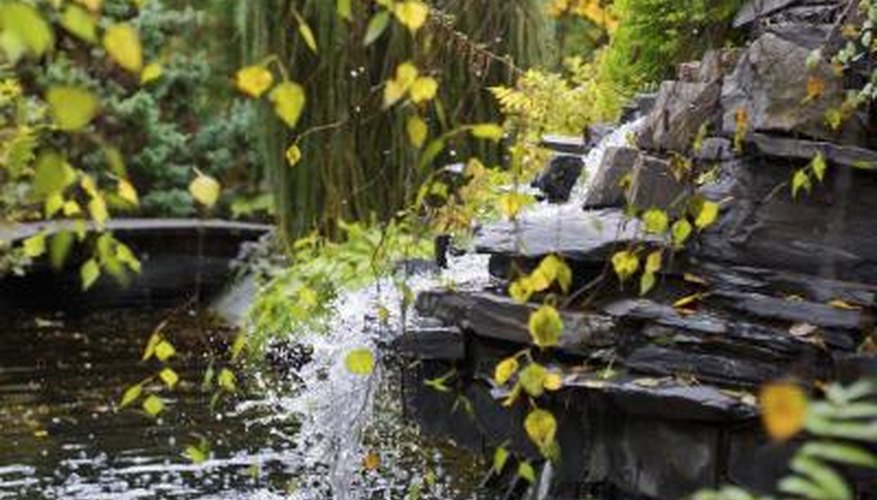 Create a small water garden with a gently sloping waterfall, a long, winding waterfall to cover a natural bank or tiered terrace, or a dramatic waterfall that streams from large boulders or a small cliff.
Create a small garden pond and a softly trickling waterfall with preformed plastic designed to fit even the smallest area of your backyard or garden. The preformed ponds range in size from three feet long to more than 10 feet long in various shapes and sizes. Some styles are designed to look like stone, while others are solid black or gray. The cascading waterfalls also can be made to look like natural stone, and range in size from six inches tall to more than 18 inches tall with up to a four-foot gradual cascade. The preformed ponds are simple to install, but you may find digging the hole a challenge. Make sure the pond is level before you fill it with water and install the pump. The waterfall can spill into the pond and may be covered with stacked slate, river rock or cobblestones to hide the look of the plastic. You also can line the rim of your pond with natural stones to match the waterfall and plants that coordinate with your other landscaping.
Natural Backyard Waterfall & Pond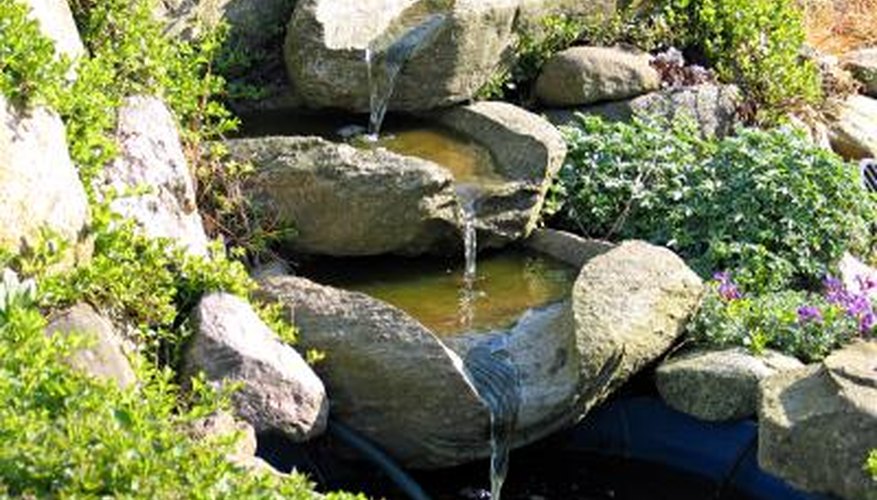 Take advantage of a natural incline in your backyard to construct a free-formed pond with a waterfall made from natural stone. A tiered area with terraces is ideal for a winding waterfall flowing into a pond surrounded by native plants and flowers. Follow the shape of your landscape as you create the outline of the pond. You can use thick plastic rolls of pond liner to fill in the hole; anchor the liner with large rocks as focal points or painted concrete blocks to blend into the liner. Begin your waterfall at the top of your terrace, and wind it gently down into the pond. Pond liner and stones will help guide the water down the path. Plant cattails, cannas or ferns, whatever are indigenous to your area. Water lilies and lotus make beautiful additions to any pond, with their colorful blooms and large green leaves.
Dramatic Backyard Waterfall with a Pond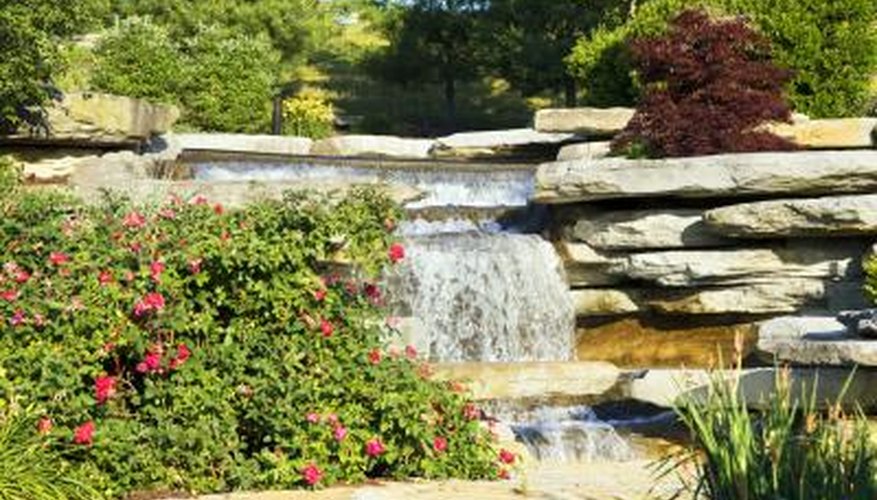 Build a dramatic waterfall spilling into a large pond with boulders and a roll of plastic pond liner. Make a pond at the base of your cliff or at the bottom of the boulders. You can use a large preformed liner if you like, but a roll of plastic liner is less expensive. Build your pond, and pipe the water up to the top of a large pile of boulders or a small cliff in your backyard. Let the water fall straight off of a ledge at the top of the cliff or the boulders to create an open-faucet effect. You can find preformed ledges with basins to help build this project.