Materials Cost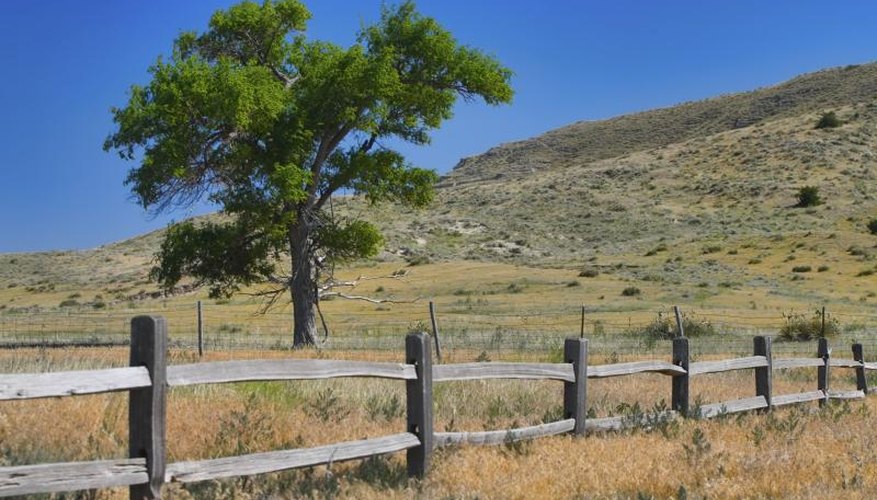 The cost of installing a rail fence varies greatly from project to project, affected by factors including material choices, fence design specifics, the site, the region you live in, and even the time of year.
To determine how many fence sections you'll need, divide the total perimeter of the area you're fencing, in linear feet, by the length of split rails you're planning to use. Typical rails are between 8 and 11 feet long, and you'll need two or three rails per section if you're constructing a traditional post-and-rail fence. You could place more than three horizontal rails -- as many as will fit into bored posts -- in a post-and-rail setup, or you could build a zigzag fence without posts. The more rails you use, the more costly the fence will be. If your split-rail fence is a post-and-rail fence, you'll need a line post per section of fence, corner posts and, where applicable, end posts. Expect to pay between $7 and $20 per linear foot of fence, depending on the grade of wood you select, for rails and posts.
Installation Costs
The cost of having a fence installed by a contractor varies depending on the size of the job and the labor rate of the installer. Some installers charge by the linear foot of fencing, assuming no unusual circumstances affect the job; rates may be as low as $5 per foot. Installation by a high-end fence design contractor, however, may cost as much as $13 per foot. If you install the fence yourself, you'll avoid labor charges but you might still encounter installation-related costs such as rental fees for a post-hole auger or other tools.
Upgrade Options
The lowest-cost option for a split rail fence usually includes posts and rails made from a relatively low-grade species of wood such as pine, which is typically treated to resist rot and insect damage. More expensive grades of wood, such as cedar and redwood, are naturally resistant to damage from decay and insects. The sizes and number of gates, and their hardware, will affect the cost of the project.
Other Cost Considerations
The cost of a split rail fence varies widely from place to place, and the cost of a particular fence can even vary in a particular location depending on seasonal influences on the construction materials market. Material costs vary by region because some wood species are more readily in some areas and less available in others, and labor costs vary regionally as well. Fence design also has a major impact on a project's overall cost; irregular perimeter shapes or significant changes in slope over the run of the fence can make the fence cost considerably more than a rectangular fence on flat ground, particularly if you have it professionally installed.