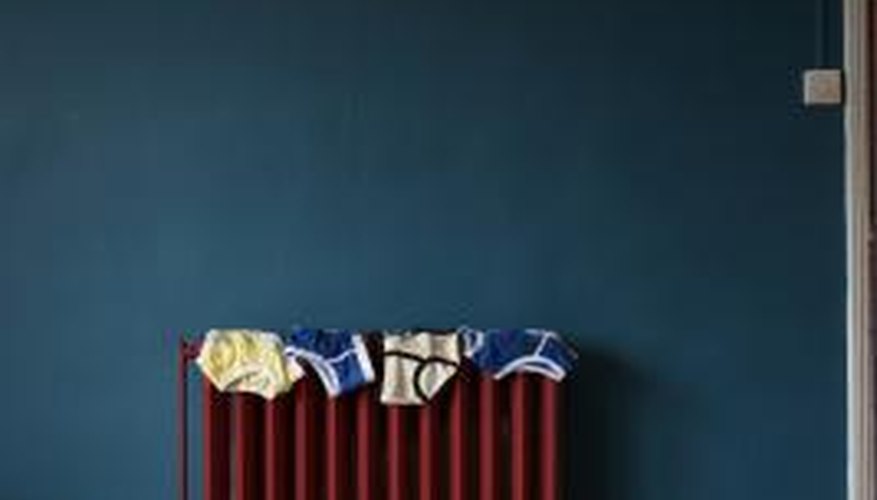 In the end, this is a matter of personal preference. After you make this decision, the task comes down to using the right tools, which are a brush and a hot dog paint roller.
Step 1
Select an oil-based paint or a resin-based paint specially designed for radiators. It's true that some high-quality latex paints can withstand temperatures up to 180 degrees Fahrenheit. And a latex paint will allow you to achieve an exact match with the wall color, if this is your preference. Still, oil-based paints are generally more durable and heat- and rust-resistant than latex. A good resin-based paint formulated for radiators and other hot surfaces can withstand temperatures of up to 500 degrees.
Step 2
Select brush-on paint instead of spray paint. While spray paint generally brings speed to most painting jobs, it doesn't always breed precision. By design, radiators have hard-to-reach spots and usually are located right next to a wall. You could address the latter issue by protecting the area around the radiator with poster board, but it's advisable to take the slow-and-steady approach to this job with a brush and perhaps a small, skinny roller -- sometimes referred to as a hot dog roller.
Step 3
Prep the cooled-down radiator. Lay an old blanket or drop cloth in front of the radiator and ventilate your work space by opening a window or turning on a box fan. Fill any hairline cracks along the radiator with caulk. Don a face mask before using a wire brush to remove any rust or paint flakes. Wash the radiator with a mild dish soap and sponge, and let it dry.
Step 4
Apply a rust-inhibiting primer to the radiator -- a step that will elongate the staying power of the paint job. Follow the drying directions on the primer before proceeding.
Step 5
Apply paint to the radiator by working from the top down. Keep a wet edge, just as if you were painting a wall. Oil-based paints taker longer to dry than latex paints, so ensure that the paint has dried thoroughly before -- and if -- you decide to apply a second coat.
Things You Will Need

Paint
Brush
Hot dog paint roller
Old blanket or drop cloth
Caulk
Face mask
Wire brush
Dish soap
Bucket
Sponge
Primer
Tip
Remember that preparation is vital with all painting jobs. Shortcuts may seem smart in the short term but usually become evident on the wall.