Base-coats
You can decide to paint with a metallic color as the base or simply put it on as a finish coat. You can also use faux finishing techniques with metallic paints, such as ragging and combing. If you have never used metallic paint, you could benefit from some tips to make sure application goes smoothly.
You can choose colored metallic paint to apply as your base-coat if you're going for a dramatic look. For a less bold look, you can choose to apply a single non-metallic latex base-coat and then add a translucent metallic paint over top of the color. If you do the latter method, you can mix the translucent metallic paint with a latex glazing liquid. This allows you to use a combing or ragging method on the walls. Before applying the metallic paint, the base-coat should be left to dry for a minimum of four hours.
Top-coats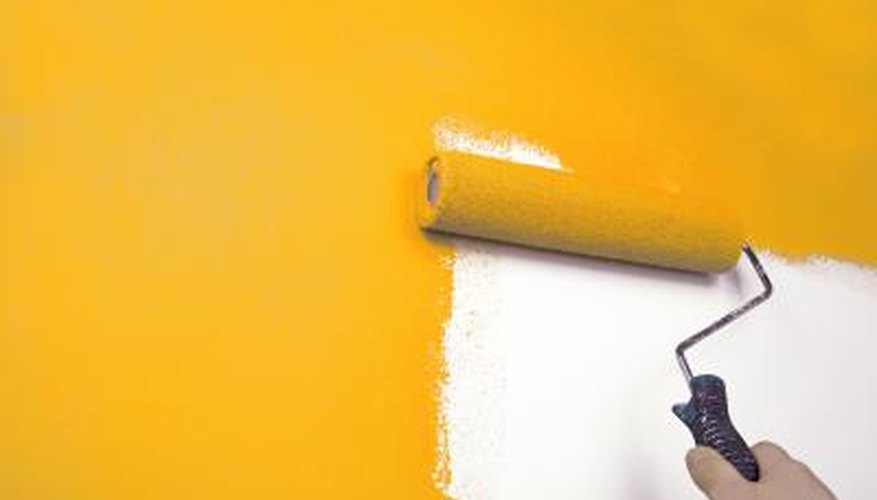 Although it is not necessary to add a top-coat to most metallic wall paints, some people choose to as a way to protect the paint job and help keep a shiny appearance. If you do choose to use a top-coat, you should choose to apply a gloss. This can ensure that it enhances the metallic appearance.
Application Methods
Due to the texture of metallic paint, most homeowners find it easier to use a sprayer to apply the paint to the walls. When utilizing a sprayer, manufacturers of metallic paint recommend that you use a HVLP or an airless pump. Airless pumps allow the paint to be applied without thinning it out. For the HVLP, you may need to thin the paint out with a small amount of water.
Rollers can be used to apply metallic paint as well if you take your time and gently handle the roller. To apply, roll the paint across the wall in a single direction without pushing down hard on the roller. Using this method eliminates any track marks that typically appear during metallic paint application. If you do end up with track marks, apply a metallic glaze as a top-coat in order to diminish their appearance.