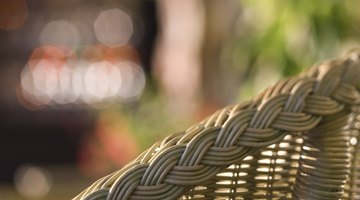 The natural appearance of wicker furniture fits in well with many design concepts, but if you want your wicker to look distressed or aged, whitewashing is the way to go. Whitewashing involves the application of paint that is thinned with water, or a pickling stain. The result is a slightly white finish with some of the natural finish showing through. This type of finish fits in well with French-country, coastal and shabby-chic design concepts. Wicker is a material that works well both inside and outside of the home.
Step 1
Scrub the wicker with soapy water and a stiff scrub brush to dislodge dirt and debris. Rinse with water and allow it to dry.
Step 2
Place the wicker on a drop cloth to protect the surrounding floor.
Step 3
Smooth any rough areas with 220-grit sandpaper and wipe away excess dust with a tack cloth.
Step 4
Ventilate the area. Mix equal parts of white latex paint and water to create a whitewash, or use a white pickling stain.
Step 5
Apply the whitewash to the wicker in small areas, wait one to two minutes, then wipe away excess whitewash with a rag. Continue the process until the wicker is completely covered in the whitewash solution.
Step 6
Touch up any areas that did not absorb the wash to your satisfaction; allow the wicker to dry completely.
Step 7
Turn over the wicker and spray the bottom portion with a coat of polyurethane to protect the finish. Let it dry. Turn the wicker right-side up and spray the top portion of the wicker with polyurethane. Let it dry. Repeat these steps for the second and third coat of polyurethane.
Tip
If your wicker has a dark stain, sand down the wicker then whitewash, although parts of the stain will remain in the weave of the wicker.
Warning
Keep children and pets away from the area at all times.
Things You Will Need
Stiff scrub brush
Soapy water
Drop cloth
Sandpaper, 220-grit
Tack cloth
White latex paint or pickling stain
Bucket
Paint stir stick
Quality paintbrush
Rag
Non-yellowing polyurethane spray
References
Resources
Writer Bio
Based in Lakeland, FL., Heather Montgomery has been writing a popular celebrity parenting blog and several parenting and relationship articles since 2011. Her work also appears on eHow and Everyday Family and she focuses her writing on topics about parenting, crafts, education and family relationships. She is pursuing a Bachelor of Science in early education from Fort Hays State University.
Photo Credits
Thinkstock/Comstock/Getty Images
Thinkstock/Comstock/Getty Images
More Articles