What Is Bullnose Tile?
Table of Contents
If you walk into a tile shop or a home improvement warehouse, you'll see thousands of tiles in every shape, color and style. And you'll see bullnose tile, which is commonly used in kitchens and bathrooms.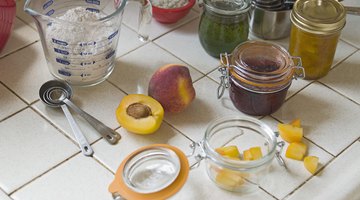 Description
Bullnose tile doesn't come in a standard shape or style. It's named bullnose tile because of its half-rounded edge. It can come in any shape, size, color but the one thing that remains consistent is having a rounded edge.
Uses
Bullnose tiles are often used at the top of a shower wall where the tile meets the plasterboard. This technique provides a smooth transition from the shower wall to the plasterboard. Bullnose tiles can also be used for the top edge of a kitchen backsplash for the same reason as in a shower. Some bullnose tiles have two half-rounded edges for corners on counters.
Bullnose Options
Bullnose tiles sometimes come with all the edges rounded so they can be used in specific circumstances, such as in corners, along edges or when finishing a wall.
Edges
Some tile contractors use bullnose tiles on the edge of a countertop, which gives the edge a subtler look as opposed to using a specific corner or edge tile.
Where to Buy?
If bullnose tiles are what you need for a project, any tile shop or home improvement shop will have many styles to choose from.
References
Writer Bio
Jesse Kimbrel is a monthly contributor to the green-living publication, "Eucalyptus Magazine." He also works as a freelance journalist and graduated from San Jose State University in 2008 with a bachelor's degree in journalism. Prior to writing for "Eucalyptus" he worked on staff at "Shift Magazine" in the Bay Area.
Photo Credits
Jupiterimages/Stockbyte/Getty Images
Jupiterimages/Stockbyte/Getty Images
More Articles