How to Wrap a Scarf Curtain
A scarf curtain is also referred to as a scarf valance or window scarf. It's a long panel of fabric that is often pieced together from smaller fabric widths. Though simple in construction, the scarf curtain lends itself to a wide range of traditional and contemporary interiors.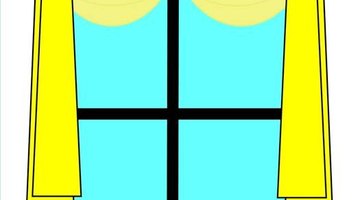 Just wrapping a scarf curtain around a drapery pole can change the look of any window. A scarf curtain creates balance when it falls symmetrically, or an equal distance from the pole on both sides. A scarf curtain adds a sense of movement when it falls asymmetrically, or lower on one side.
Fold the scarf curtain like a fan. Lay the scarf on a flat surface and start folding it at regular intervals so the pleats are of equal depth. Always use a fabric that will fold crisply, such as cotton or linen. It is difficult to wrap a scarf curtain that is made with lightweight or heavyweight fabric because it does not hold folds well.

Tie the middle of the folds together temporarily with wired ribbon. If ribbon isn't available, use clamps or paper binder clips.

Drape the folded panel diagonally over the center support. If the pole does not have a center support just fold it over the pole.

Wrap the fabric hanging on the front side back over the left side of the pole. Make sure the fabric does not cross the finial, or the end piece.

Loop the fabric hanging on the back over the right side of the pole.

Draw out the folds to arrange the swag.

Remove the ribbon.

Stand back from the window and adjust the position of the fabric accordingly.

Secure the scarf curtain to the rod with double-sided tape. Apply the tape only when the scarf is arranged to your satisfaction. Removing the tape may rearrange the folds.
Things You Will Need
Scarf panel
Wired ribbon
Drapery rod
Double-sided tape
Tip
Pull the fabric lower on one side to wrap the scarf curtain asymmetrically. Create a deeper drape across the window by pulling the center portion of the scarf lower.
Writer Bio
Renee Vians has been writing online since 2008. She earned a Bachelor of Arts in English and journalism and language arts certification from the University of Nebraska-Kearney. Her articles have appeared on various websites.
Photo Credits
More Articles