How to Fix Levolor Cordless Honeycomb Blinds
Levolor cordless or honeycomb shades are a good option if you have pets or small children who might get caught in the cords. The fabric pleated shades can also be easier to maintain than blinds that have slats that can break. These blinds come in a variety of styles and colors to coordinate with your home decor.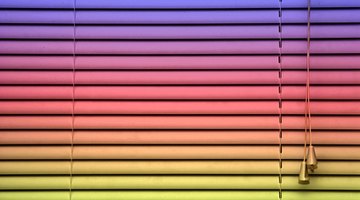 Various problems can occur with cordless blinds and it is possible to fix them yourself.
Tip
Always lift your shade from the middle instead of the sides. Also, do not lift too quickly or this could create slack in the ribbons and cause the shade to hang unevenly. If you leave your blinds in the closed position for a long period of time, the spring will need to be reset.
Replace the white ribbons or lift tapes in your cordless shade if they become entangled and your shade does not hang evenly. Fully extend the shade by grabbing it with your hands from the bottom, but make sure you pull down from the center of the shade. This should solve the problem and realign the tapes. Pull down the shades again if this does not solve the problem.

Peer inside the head rail or long metal piece at the top of the blinds if your blinds are not operating smoothly. Locate the friction clips inside. Pull out one or more clips. Test that the shades operate correctly and this should solve the problem.

Lightly pull down on the bottom rail or long metal piece to reactivate the spring. Test that the blinds work correctly. Repeat this step if the spring is still stuck in place.

Install a friction shim or clip to repair your blinds if they are are rising from the bottom. Pull blinds all the way to the top with your hands. Remove the shade from the window and place on a flat surface. Slide the shim or clip into the grooves on the metal track in the head rail on the blind. Place a shim or clip on the opposite side of the head rail if the shade is still rising at the bottom. If this does not solve the problem, the shade should be repaired or possibly replaced.

Raise your cordless shades at least once a day and always leave them in a closed position to maintain crisp pleats.
References
Photo Credits
rainbow blind background image by Stephen Orsillo from Fotolia.com
rainbow blind background image by Stephen Orsillo from Fotolia.com
More Articles