How to Turn a Storage Shed Into a Tiny House
It's amazing how good planning can yield an excellent living area in a tiny space. By making every square foot count, you can create a living room, kitchen, bedroom, bath and closet in a storage shed. The secret is using wall space effectively and planning each detail.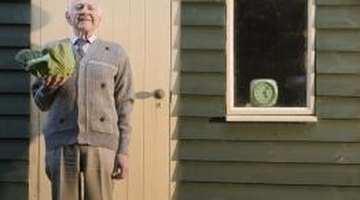 Because the house is tiny, creating a beautiful space is affordable. Using recycled materials can add to your savings. A so-called tiny home usually works best for someone who's living alone, but a small house is also an option as a vacation getaway.
Things You Will Need
Measuring tape
Sketch pad
Insulation
Framing material
Drywall
Windows
Paint
Appliances
Shelving
Furnishings
Oil-filled radiator-type heaters
Measure the storage shed to determine square footage. Make lots of drawings to establish a good design. Add a small porch, window boxes and landscaping, for example. Plan an interior that's totally open except for the bathroom. Clean the shed inside and out before starting any type of renovation.

Repair the roof and foundation. Fix any cracks or leaks. Add new roofing plywood and shingles, if needed. Check the ground thoroughly to make sure the foundation has no moisture problems or loose soil.

Insulate and frame the walls. Run plumbing and electricity as needed. Replace single-pane screenless windows with double-pane windows with screens. Build a small bathroom. Install drywall. Paint the walls and trim with semi-gloss paint.

Build in a small bathroom. Create a kitchen in the smallest space possible, along a portion of one wall. Add a counter, a sink, open shelving and dorm-size appliances.

Finish the interior. Lay flooring, such as hardwood or tile. Plan to buy a couple of free-standing heaters to add warmth to the space when it's cold. Purchase oil-filled radiator-type heaters, which are energy-efficient and require only 110-volt plug-ins.

Furnish the tiny home as minimally as possible. Instead of a bed and sofa, use a daybed or a sofabed. Make furniture do double-duty. A table can double as a desk. A small ottoman can serve as a footrest, table, guest seating and hidden storage. Install adjustable wall sconces for lighting to eliminate the need for table or floor lamps.
References
Resources
Writer Bio
Judi Light Hopson is a national columnist for McClatchy Newspapers. She is founder of Hopson Global Education and Training and co-author of the college textbook, Burnout to Balance: EMS Stress. She holds a degree in psychology from East Tennessee State University, and has been a professional writer for 25 years.
Photo Credits
Jupiterimages/Polka Dot/Getty Images
Jupiterimages/Polka Dot/Getty Images
More Articles