Error Codes on Kenmore Dryers
Error codes on Kenmore dryers are an enigmatic form of technological cryptography that often confounds homemakers. Luckily, the owner's manuals for a number of makes and models of Kenmore dryers contain guides to common error messages and suggest home troubleshooting solutions for dealing with these errors.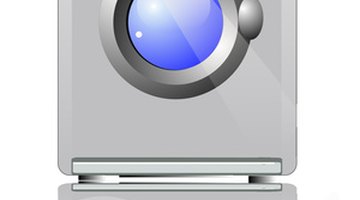 You can download Kenmore residential dryer manuals from the Manage My Life website.
tE Errors
For Kenmore Elite residential dryers with model numbers 79679272900, MFL62512818, 79679278900, 79669272900, and 79669278900, the tE1 and tE2 error codes signify that the unit has suffered a temperature sensing failure, which means that the dryer is unable to ascertain how hot it is. Thus the dryer may potentially under heat and fail to dry properly, or overheat and become a fire hazard. For error codes tE1 and tE2, the Kenmore Elite manual recommends that owners turn the dryer off and call for servicing.
PS Error
The PS error code appears only on electric Kenmore dryers and does not apply to gas dryers. For Kenmore Elite electric dryers with model numbers 79679272900, MFL62512818, 79679278900, 79669272900, and 79669278900, the PS error code indicates that the dryer's power chord is incorrectly connected. The power chord should supply 240 volts of electricity to the dryer. An inadequate electrical supply source is another cause of the PS error code on a Kenmore dryer.
AF Error
The AF error code for Kenmore Elite Oasis dryers with model numbers 11067032601, 11067042601, W10035200, 11067032600, and 11067042600 indicates that the dryer is experiencing an airflow problem. The Kenmore Elite Oasis owner's manual recommends four troubleshooting solutions to an airflow problem: clean the dryer's lint screen, ensure that the exterior exhaust hood connected to the dryer is unblocked, ensure that the vent connecting the dryer to the wall is clear and see that the vent is cleaned professionally.
References
Resources
Writer Bio
Will Gish slipped into itinerancy and writing in 2005. His work can be found on various websites. He is the primary entertainment writer for "College Gentleman" magazine and contributes content to various other music and film websites. Gish has a Bachelor of Arts in art history from University of Massachusetts, Amherst.
Photo Credits
washing machine image by andrey polichenko from Fotolia.com
washing machine image by andrey polichenko from Fotolia.com
More Articles