How to Clean Hemp Shoes
Hemp is a strong, natural fiber that retains its shape well and doesn't stretch as easily as many other fibers. So if you have a pair of hemp shoes, you can pretty much bet that they'll stay in good condition for quite some time. That's not to say the shoes won't get dirty and need a good cleaning occasionally.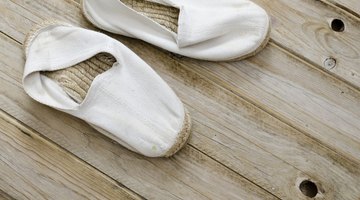 Clean them properly and with the right products to help ensure the fabric stays intact during the process.
Scrub Away the Dirt
Most hemp shoes will have a rubber sole, so it's not ideal to machine wash them. Even though the hemp itself can likely withstand machine washing, the glue or stitching holding the soles onto the fabric may become loose during agitation in a washer. Instead, mix a gallon of warm water with a teaspoon of mild laundry detergent. Use a scrub brush or rag dipped in the soapy water to scrub the hemp fabric. Wipe the shoes with a clean rag dampened with plain water to remove all of the soap residue; rinse the rag frequently to remove the soap from the rag. Don't submerge the shoes under running water. Place the shoes in a well-ventilated area to dry completely.
References
Writer Bio
Kimbry Parker has been writing since 1998 and has published content on various websites. Parker has experience writing on a variety of topics such as health, parenting, home improvement and decorating. She is a graduate of Purdue University with a Bachelor of Arts in organizational communication.
Photo Credits
villorejo/iStock/Getty Images
villorejo/iStock/Getty Images
More Articles