About Peel & Stick Crown Molding
Table of Contents
Crown molding has become a popular item for finishing the top edge of a room. Typically, installing crown molding was a difficult, tedious job calling for meticulous cutting using a miter saw or similar tool, along with using a coping saw to carefully undercut the miters with fastidious accuracy.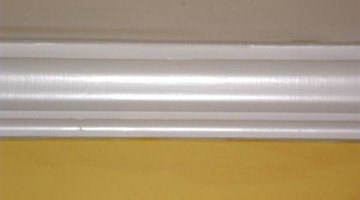 Installing the molding just got simpler, though, with the recent addition of a peel-and-stick version.
Function
Peel-and-stick crown molding can be used to spruce up your home before putting it on the market, or as a simple and inexpensive way to add to any room's appeal. Unlike its standard counterpart, you do not need any special tools or experience to install it. All that is required is a pair of household scissors to cut it to size. Then you simply peel off the backing and stick it in place.
Types
Peel-and-stick crown molding is most frequently composed of molded plastic that can be painted to match or accent your room. Some of the molded plastic variations are colored to appear as painted wood, so you do not need to paint them. Some versions are made of heavy-duty polystyrene (commonly known by the brand name "Styrofoam"). Other variations of this product are made of metals like aluminum. This type of crown molding might be most appropriate in a garage or industrial kitchen.
Benefits
Peel-and-stick crown molding is lightweight and easy to install. Putting crown molding in a room adds instant flair and extra value. It is precut, so you do not need to own or borrow special tools or have experience installing it. Since it is not as heavy as wood molding and comes in smaller pieces, you can transport it easily, and one person can mount it without difficulty.
Time Frame
You can paint most peel-and-stick crown molding using primer followed by water-based paint. You will need to let the paint dry completely before hanging it, which can take anywhere from a few hours to an entire day. You should be able to install the molding in an average-sized living room in an hour or less. This includes measuring the walls and cutting the molding pieces to size.
Warning
Most brands of peel-and-stick crown molding will not adhere well to textured ceilings. Depending on factors such as humidity and evenness of the walls and ceilings it is attached to, this molding may fall off the wall over time. It is possible to detect that the molding is indeed plastic or foam rather than wood. Therefore, this product might not be the best choice if you are remodeling an otherwise high-end home.
Check out this related video from Homesteady on Youtube.
Resources
Writer Bio
Tricia Goss' credits include Fitness Plus, Good News Tucson and Layover Magazine. She is certified in Microsoft application and served as the newsletter editor for OfficeUsers.org. She has also contributed to The Dollar Stretcher, Life Tips and Childcare Magazine.
Photo Credits
www.morguefile.com/kevinrosseel
www.morguefile.com/kevinrosseel
More Articles