How to Install a Plastic Composite Baseboard
Composite baseboard is a type of molding that is installed along the floors where the floor meets the wall. It not only adds style and elegance to a room, but it also helps to protect the walls from getting kicked and scratched. There are various widths of baseboard available ranging from 2.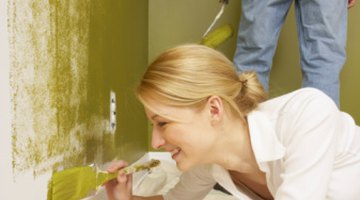 Things You Will Need
Tape measure
Construction adhesive
Caulk gun
Utility knife
Pencil
T-square
5 inches to over five inches. Baseboard can be made of many different materials, including wood or composite. Installing composite baseboard is similar to installing wood baseboard and involves just a few simple tools.
Measure the walls in the room where you are installing the composite baseboard. Run a tape measure across each wall and add the measurements together. Record the number of feet needed so you know how much baseboard you need.

Turn the first piece of vinyl composite molding upside down and lay it on a flat surface. Insert a tube of construction adhesive into a caulk gun. Lock it into place and cut off the nozzle of the construction adhesive with a utility knife.

Line up the caulk gun beginning in any corner of the composite baseboard and pull the trigger. Run an "S" shaped bead along the back of the baseboard down the entire piece. Flip the piece over and press it up against the wall. Run your hands over the entire surface so it can adhere to the wall.

Flip the second piece over and repeat the same process. Butt the second piece up next to the first and hold it firmly in place so it can adhere to the wall. Continue in the same manner until you reach the end of the first side.

Measure and mark the final piece of the first side with a pencil. Line up a T-square along the pencil mark and score along the T-square with a utility knife multiple times until the piece snaps in two. Install the final piece of the first side and all of the remaining pieces in the same manner.
References
Writer Bio
Alexander Callos began writing in 2005 for "The Lantern" at The Ohio State University and has written for various websites, including Bleacher Report, Top Ten Real Estate Deals and Columbus Sports. He has published articles for CBS Sports, SI.com and other websites. He graduated in 2007 from The Ohio State University with a bachelor's degree in public affairs journalism.
Photo Credits
Photos.com/Photos.com/Getty Images
Photos.com/Photos.com/Getty Images
More Articles