How to Clean Sandstone Tile
Sandstone floors and countertops add natural beauty to your indoor and exterior spaces. This attractive stone--not to be confused with soapstone--is readily available in a wide variety of colors and types, including honed, sand-blasted and split.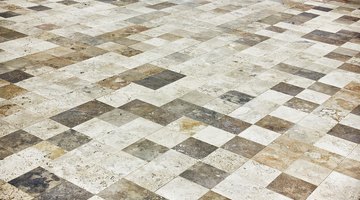 The non-uniform appearance of sandstone from tile to tile makes every project a one-of-a-kind venture. Before investing in this type of tile, however, keep a number of factors in mind.
Uniqueness of Natural Sandstone Tiles
Sandstone occurs in nature as a rock composed primarily of quartz sand. It's used for many purposes within the construction industry, including indoor and outdoor tile. This natural stone, which is often quarried in slabs, can be cut to fit nearly any project. It's a durable stone that lasts a lifetime when installed properly, but it has several characteristics that make it a higher-maintenance choice for flooring than other types of tile. Sandstone is porous, which means it requires sealing and re-sealing on a regular basis. It will stain if spills are not wiped up promptly, and it can chip, scratch or crack under heavy treatment.
Perform Regular Maintenance
To keep your sandstone tiles looking fresh and clean on a regular basis, Mother Earth News recommends using a neutral-ph cleaner, which is a cleanser that's neither too acidic nor too alkaline. Vinegar and lemon juice are acidic and not recommended for this type of tile. Baking soda, washing soda and borax are too alkaline -- also a bad idea. For regular care and maintenance of sandstone flooring, dry mop the area first. Follow up by mopping with a soft, non-abrasive solution composed of castile soap and warm water. Rinse with clean water, and wipe dry with a soft cloth.
Deep Clean Sandstone
Tough stains or ground-in dirt on sandstone are tricky to treat. Any sort of abrasive scrubbing or scraping on this soft stone may result in scratches, and using caustic cleaners can etch the finish right down to the stone, resulting in costly repairs. Once your sandstone tiles become heavily soiled, the only safe treatment is repeated cleaning with a recommended neutral cleaning regimen. Dry mop or vacuum without using the beater brush; mop with soap and warm water; rinse and wipe dry. If the tiles are stained beyond help, you may need to call in a professional to have them restored.
Preventive Care
Probably the best and easiest method of maintaining sandstone tiles requires taking preventative measures to keep them from becoming damaged. Seal them annually, and place doormats at all entrances to your home to trap grit and dirt before it reaches your tiles. Use coasters under drinks on countertops, and wipe up spills immediately. Dry and damp mop your tiles daily to remove abrasive debris that can scratch and chip away at the surface, and place pads under furniture legs.
References
Resources
Writer Bio
Anne Goetz shares her parenting and career experience with North American Parent, Hagerstown Magazine, c0ws.com, Lhyme.com and a variety of other online and print publications. A mother of two with a degree in communications and a long history in management, Goetz spends her spare time hiking, camping and blogging. She is the author of the site, An Unedited Life: The Ultimate Blog for Freelance Writers.
Photo Credits
JohnnyH5/iStock/Getty Images
JohnnyH5/iStock/Getty Images
More Articles