How to Measure for Bifold Doors
You're building a new closet to add extra storage in your bedroom or laundry room and you've decided on bifold doors to enhance the project. Once your closet opening is roughed in, you realize you don't know how to measure the opening for the door. Grab your tape measure, and you'll have the needed numbers in minutes.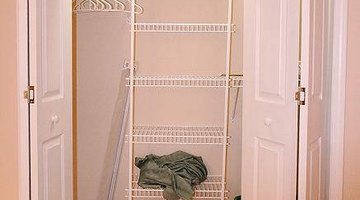 Before you know it you'll be installing your bifold doors, and your closet will be finished.
Decide on the size of door or doors you're going to install. Bifold doors come in widths of 24, 30, 32 and 36 inches to fit a variety of projects. You want to leave 6 to 12 inches of space on either side of the door opening for bracing, so we'll use a 4 foot wide closet with a 30-inch bifold door as an example.

Measure from the top left finished edge of the doorway opening 30 inches to the right and mark the end. This will be the top measurement of your door opening.

Check the left sides for straightness using a level, then measure the bottom of your doorway in the same method.

Confirm the height of your bifold door. The standard finished opening needs to be 80.75 inches, and this will be your finished opening height. Measure both sides of the opening and mark at 80.75 inches.

Install the header and right side of your doorway, remembering to recheck your measurements and level at each stage.
Writer Bio
Robin Hewitt began her writing career in 2008. She is the coauthor of several books, including "The Joyous Gift of Grandparenting," which covers the nutritional and fitness needs of both grandchildren and grandparents.
More Articles